Nearly two months have passed since the file on a policeman's alleged sexual assault of a detainee, Colwyn Harding, was returned to police for further investigation.
The delay seemingly lies with the police, who have had the file for almost two months doing additional investigations as directed by Director of Public Prosecutions (DPP) Shalimar Ali-Hack. Ali-Hack had said in a statement, on February 21, that after examining the file she returned it to the police on February 19 for further investigations to be done.
She did not state what the further investigations entailed.
It is believed that she took this position after receiving a copy of a medical report compiled by a doctor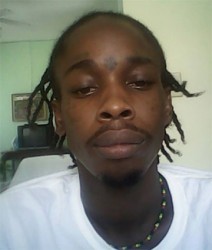 who conducted an independent medical exam on Harding at a private hospital after he had been discharged from the Georgetown Hospital.
Acting Police Commis-sioner Seelall Persaud had previously told the media that investigators were instructed to re-interview some witnesses and look into the findings from the private hospital where Harding was treated after his release from the Georgetown Public Hospital, among other things.
Persaud told this newspaper recently that the file would be sent to DPP by last week but up to Friday morning the file had not arrived.
Harding, in January, came forward with an allegation that a police constable raped him with a baton last November and that he was subjected to brutal beatings at the hands of the very rank and others at the Timehri Police Station. The first story on Harding's allegations was published on January 10, 2014, at which time he was a patient of the George-town Hospital. He had sustained damage to his intestines, which it was claimed occurred as a result of the baton assault committed upon him.
Harding was first taken to the hospital on December 13 last year by prison officials while he was a remanded prisoner at the Georgetown Prison. After an examination he was referred for surgery. It would appear that he was given a return date and was taken back to the prison. However, four days later, he was rushed back to the hospital after his condition worsened and he underwent emergency surgery the following day. It was on this day that his mother said she made contact with then Police Commissioner Leroy Brumell and other senior officers and in-formed them of the allegations made by her son. Police have said they were never told of the rape. Harding's mother, however, is refuting his statement. She insisted that in the text message she had sent to him she had said that he was raped by the police.
The hospital has since said that while its doctors were treating Harding they saw no sign of the alleged rape nor were they told anything about it.
It was only after a story appeared in the media that Brumell instructed the police internal affairs unit, the Office of Professional Responsibility, to conduct an investigation.
The constable who allegedly committed the rape was placed under close arrest and several other ranks from the Timehri Police Station have been transferred to other stations. The constable is now on open arrest and has been moved to another location.
Improving
Meanwhile, Harding's condition has improved tremendously. He does not require a wheelchair anymore and is now walking unaided.
Speaking on his behalf, Charlene Wilkinson, a member of the Colwyn Harding Support Group, told Stabroek News that he is "coming along." She said that all that is required now is for him to have corrective surgery to fix the damage done to his intestines. She noted that he is still required to use colostomy bags.
She said that the group was preparing to launch a massive fund raising activity. A telethon, it was explained, will be among the activities planned to raise the approximately $2.5M needed to have the corrective surgery overseas. Wilkinson stressed that the surgery will definitely not be done in Guyana, thus the reason for fundraising activities.
Describing Harding as a "strong young man," Wilkinson also said that he is still visiting a doctor for check-ups. She said that the bleeding in his rectum, which had been detected as recent as early last month, has now stopped. She said that he still experiences tenderness whenever he is being changed.
She said that it was a miracle "that we intervened and we need more miracles like that in Guyana in the lives of the disenfranchised youths, especially the black males."
Harding, in late January, was flown to Jamaica, where he underwent a second independent medical examination which confirmed what the doctor in the first examination had found. His lawyer Nigel Hughes had told a press conference that the doctors had found that the damage to Harding's rectum was as a result of the insertion of a foreign object.
Meanwhile, Harding's mother, Sharon, who spoke briefly with this newspaper, said that she has heard nothing more from the police on the matter.
Wilkinson told this newspaper that members of the group would protest outside of the Providence Magistrate's Court every time Harding had to appear. Following the alleged baton incident, Harding was charged with assaulting a police rank. Wilkinson said that whenever he attends court, he walks but she noted that he cannot walk for extended periods.
Around the Web