The Ministry of Education yesterday began the first of a series of intensive coaching focus group workshops aimed at further bolstering the quality of teacher educators at the Cyril Potter College of Education (CPCE) and the School of Education and Humanities (SEH), University of Guyana (UG).
A release from the Ministry of Education said that the workshops were being held through the Guyana Improving Teacher Education Project (GITEP).
"We have some consultants from the Mount Saint Vincent University, Canada, here to commence the first in a series of intensive coaching workshops in four subject areas which are Mathematics, Literacy, Science and Special Needs Education. This series of intensive coaching will serve to significantly improve teacher performance in their respective subject areas, which will ultimately lead to improved instructional effectiveness," Project Coordinator, Tota Mangar stated, according to the press release.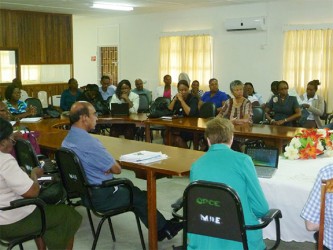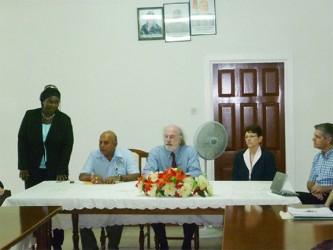 GITEP is a project financed by the World Bank in collaboration with the Government of Guyana, and Commonwealth of Learning. The release said that it focuses on three main components: 1) Improving the Quality and Efficiency of Teacher Education Delivery; 2) Building Human Resources and Capacity for more Effective Teaching and Learning; and 3) Communication, Project Management and Monitoring and Evaluation. GITEP started in 2011 and concludes mid 2015.
Yesterday's session was held at the CPCE auditorium and was attended by teacher educators from CPCE and its satellite centres countrywide.  Lecturers from the SEH, UG, both from the Turkeyen and Tain campuses were also present.
Around the Web