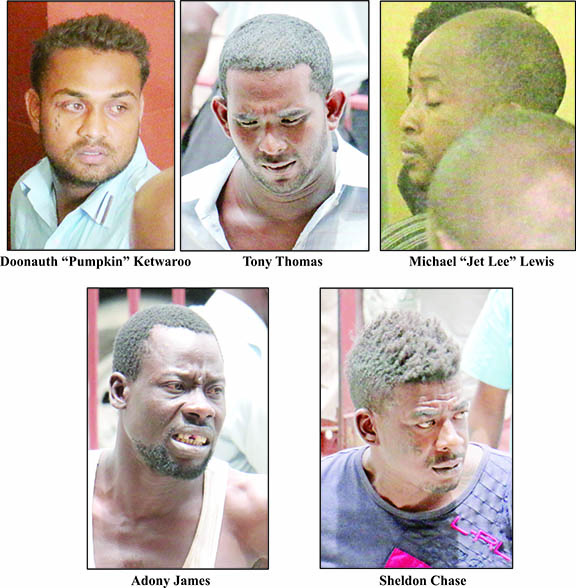 By Desilon Daniels
Five men accused of murdering kidnapped Enmore businessman Rajendra Singh were remanded to prison yesterday after being charged with the capital offence.
Doodnauth "Pumpkin" Ketwaroo, 26, of 365 Good Hope, East Coast Deme-rara, Tony Thomas, 27, of 7 Bel Air Village, George-town, Michael "Jet Lee" Lewis, 37, of 65 Sheriff Street, Georgetown, Adony James, 31, of 171 East Ruimveldt, Georgetown and Sheldon Chase, 28, of 349 Pike Street Kitty, Georgetown were not required to plead to the charge that they, between April 5th and April 9th, at the Le Repentir Cemetery, murdered Singh.
During the men's arraignment at the Georgetown Magistrates' Courts, attorneys for four of them accused police of beating their clients. Attorneys for two of the men claimed that they had been coerced into signing confessions. Although the police prosecutor denied the claims, Magistrate Ann McLennan, who presided over the hearing, ordered that the men receive medical examinations.
Singh's body was discovered on the morning of April 9th in the cemetery with his hands bound and a gunshot wound to his head. The discovery came four days after the car dealer was kidnapped from his business place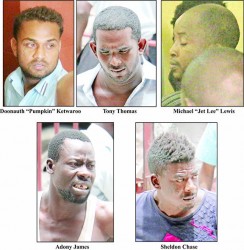 and a multi-million dollar ransom was demanded for his safe return.
Defences were presented for all but one of the accused murderers during the hearing yesterday. After the particulars of each defendant were declared, attorney-at-law James Bond took the floor first and said that his client, Thomas, had no antece-dents and had an alibi which proved that he had been elsewhere during the estimated time of Singh's demise.
He said the man had been dragged from his home last Friday and had since been beaten and tortured by police ranks while in custody. According to Bond, the ranks can be identified by his client. The lawyer named a few of the alleged attackers.
Bond added that Thomas was not hearing from the right ear after being slapped and beaten repeatedly and that he had suffered through constant shuttling between police stations. The lawyer also requested that his client be checked out by a medical practitioner before his condition became permanent. He also indicated that his client had signed a statement in an attempt to stop the beatings but had been unaware of what the statement was.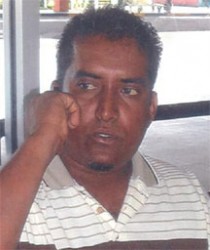 Bond requested an early date for the start of the preliminary inquiry.
James' attorney, Sedella Ferrell also stated that he had been beaten and tortured while in police custody. James, Ferrell added, was requesting medical attention for his kneecap, which was the primary target of the alleged police's assaults. She added that her client denied any involvement in the murder.
Representing Ketwaroo and Lewis, attorney Gordon Gilhuys said he had been instructed that Ketwaroo had suffered a blackout due to a severe beating by several officers at both the Vigilance and Sparendaam Police Stations. Gilhuys further recounted that plastic bags were placed on the man's head as he was continuously beaten. Ketwaroo, he said, was subsequently forced to sign a statement.
According to Gilhuys, Ketwaroo's complaint had been made to an officer at the Vigilance Police Station and a medical check-up was requested. Gilhuys added that Ketwaroo had been seen by a doctor but he is unsure whether the police have obtained the medical report.
In the case of his other client, Michael Lewis, Gilhuys said that the man had also been beaten and had sustained injuries to his head while at the Beterverwagting Police Station. Though a medical examination had been requested, Lewis was never seen by a doctor.
Lewis had tried to make complaints to several senior officers but the man's grievances were ignored, Gilhuys said.
"Madam, I'm seeking the court's intervention at this time to have the #3 defendant [Lewis] taken for medical attention," Gilhuys requested.
Gilhuys also asked Prosecutor Stephen Telford to indicate whether the prosecution's investigations were completed.
Telford told the court that no medical reports were available for any of the defendants and pointed out that none of the accused killers bore any signs of abuse or torture. In response, Gilhuys pointed out that his clients had been in custody for six days and had more than enough time to heal.
Prosecutor Telford also indicated that investigations were incomplete and requested a date for reports and fixtures. He also revealed that there were 31 witnesses for the prosecution at this point in time.
Magistrate McLennan ordered medical attention for the defendants before she remanded them all to prison. The quintet will return on May 21, when they will make an appearance before Chief Magistrate Priya Sewnarine-Beharry.
Around the Web