The partly decomposed body of a man which was found in a cow pasture at the back of New Road Essequibo Coast on Wednesday was identified yesterday as that of odd-job worker Phillip Darchiville.
The body was discovered by a farmer who had gone to gather cow manure when he saw the body being eaten by crows.
He then alerted other villagers and the police from Charity were summoned.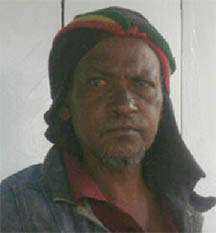 The body was taken to the mortuary and a post-mortem examination is expected to be performed.
Darchiville, a homeless man, was often seen in Charity.                        According to reports, Darchiville had moved from Linden to Charity some two years back to live and has no family in the area. He did odd jobs for stall owners at the Charity Market square and slept on stalls at night.
It is unclear how he met his demise and the police are still investigating the matter.
Around the Web