An emotional Sharon Berry testified yesterday as the trial of the two men accused of the November 2007 murder of her nine-year-old daughter Sade Stoby began in the High Court.
On trial before Justice Navindra Singh and a 12-member jury are Jevon Wharton, 23, and Charles Kush, 21, both of Mocha Arcadia. The two were 16 and 14 years old, respectively when they were charged.
Attorney Raymond Alli is appearing for the number one accused Wharton, while attorney George Thomas is representing Kush.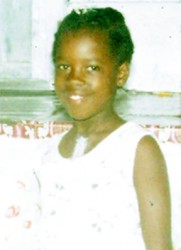 According to reports, on Friday November 2, 2007, Stoby left school after it was dismissed, headed for her Barnwell North, Mocha Arcadia home; she never arrived. On Sunday November 5, her father, Eric Stoby and brother, Karlon Stoby, who were searching for her, found her body a short distance from her home. She had been brutally murdered. Under cross-examination, Berry told the court that she knew the two accused from seeing them around the village. Fighting back tears, she said she was present when her husband, Eric Stoby met with Kush in relation to the matter. "I met him first. I was coming from town and I stopped at the shop and I saw the number two accused and I asked him if he saw Sade on Friday and he said no. I told him, 'Boy yuh know me?' and he said yes. I tell him, 'I wan yuh tell me the truth' and I asked him gain and he said yes. I told him therefore you had a plan from since at Archieduck Bridge."
Berry also said that after searching for her daughter that Friday, a report was made to the police the following day.
According to her, her husband who was working in the interior arrived on the Sunday and he went and searched with other family members. He later called and told her something and she went to Sixth Field where she saw the body of her daughter. She appeared to be dead and her tights and underwear were close to her body, Berry added.
Thomas suggested to Berry that her husband, brother-in-law and other relatives had beaten Kush and that her husband had met Kush and told him that he would "castrate him." Berry denied this and said, "I don't know wah he say. I know wah I say."
Sixteen photographs from the crime scene were also tendered as evidence yesterday despite objections raised by defence counsel. After listening to arguments from both sides, in the absence of the jury, Justice Singh allowed the photographs to be admitted as evidence.
Former police photographer Ewin Trotman told the court that he went to the crime scene and took the photographs and that he also took sketches of the scene.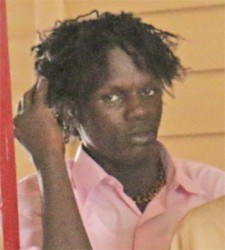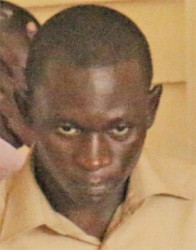 Senior State Counsel Judith Gildharie-Mursalin in her opening address told the court, "all we have to prove is that they [the accused] had intentions to rape her. We don't have to prove intention to kill. This was a felony murder. We only have to prove intention to rape."
Gildharie-Mursalin said that a post-mortem examination was done on Stoby's body on November 5 by Government Pathologist Dr Nehaul Singh and he gave the cause of death as asphyxiation due to submersion, compounded by blunt trauma to head.
She added that the deceased's body was bloated and she had haemorrhage bleeding to the front of her head, to the muscle at the back of her head and to the muscle at the middle of her chest. "There was thick black mud in her trachea, her stomach was filled with dark black mud, blood in her vagina, her hymen was ruptured, her intestines were protruding through her anus; there was blunt trauma to the head, at least four and there was bruising to her vagina indicating sexual activity just before her death," Gildharie-Mursalin told the court.
The trial will continue tomorrow.
Around the Web