A family at Low Lands, Hope, East Coast Dem-erara was devastated after returning home after a kite flying exercise on Monday evening to find it ransacked and over $700,000 in cash and jewellery stolen.
Govind Singh, deputy Regional Executive Offi-cer of Region Five told Stabroek News that the jewellery belonged to his wife and two of their two daughters, ages 3 and 9-years-old. The children are still deeply traumatized.
He said they left home around 2 pm and when he returned at 7 pm he knew something was amiss. He noticed the gate broken and the front door open. The bandits had broken the padlock on his grill door to gain entry into the house.
The entire house was ransacked and when he checked he became distressed that the cash, most of which was from his salary, and jewellery were gone.
A suspect is in police custody assisting with investigations.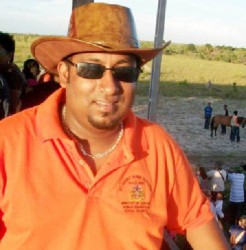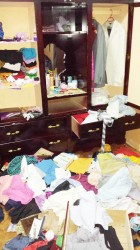 The bandits left his licensed firearm, laptop and Kindle behind and he figured that the crime was committed by some drug users in the area.
He immediately reported the matter to the Cove & John Police Station but was told that no rank was available to visit the scene. Disappointed, he then contacted a senior officer who arrived shortly after.
The other officers visited his home on Tuesday morning to conduct further investigations and to dust for fingerprints. He said the neighbours were out flying kites as well.
He recalled that three nights ago bandits broke into the home of another family and stole a quantity of articles.
They also attempted to break into the home of another man and were already on the zinc shed when the man awoke and raised an alarm.
Meanwhile, Singh said the break-in brought back horrible memories of when his grandfather, Ramlagan 'Tun Tun' Singh was strangled to death in his Mahaica home three years ago.
Singh said when he and his brother made the gruesome discovery, his grandfather was lying on his stomach with his hands and feet tied behind his back and a piece of cloth tied tightly around his mouth.
The man's home was ransacked but relatives did not believe robbery was the motive behind his death since he had other valuables but only money was taken from the house. His family said they are still awaiting more information from the police.
Around the Web