A Kaneville, East Bank Demerara man was yesterday charged with the murder of his brother, who he is accused of fatally chopping.
Rohan Teekaram, 42, was not required to plead to the allegation that sometime between April 20th and April 22nd, he murdered Jairam Teekaram, when Chief Magistrate Priya Sewnarine-Beharry read the charge.
In spite of being informed that he was not required to answer the charge, Teekaram muttered, "I ain't do nothing." He expressed his displeasure that he could not defend himself during yesterday's proceedings at the Georgetown Magistrates' Courts.
Prosecutor Michael Grant asked the court for a report date, after he informed the Chief Magistrate that the Director of Public Prosecutions (DPP) had raised some issues that needed to be resolved.
Teekaram was subsequently remanded to prison until May 12, when a report is to be submitted by the prosecution.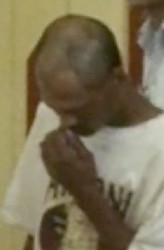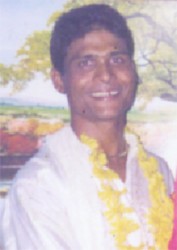 A post-mortem examination this week determined that Jairam, 40, called 'Nasho', died as a result of internal bleeding caused by severe lacerations about his body.
A neighbour, who only identified herself as "Lizzy," told Stabroek News that she was awakened around 1 am on Monday morning by the sound of Jairam's voice and she heard his brother shouting at him to get out of the house if he did not have any money. She said ashe heard Rohan beating Jairam but did not do anything because it was a norm for the two men to fight.
Later that morning, she said, she did not see Jairam but saw his brother leaving for work. He returned home that afternoon, made dinner and went to sleep. "This morning [Tuesday] around 6:30 he got up and do the same but is till when my husband went into the backyard to go to the toilet that he saw a foot and he get worried and start ask if anyone see Nasho but nobody did so he went to his son's house in Diamond and he said that he didn't see him for a while so he come back home and when we all peep we see it was Nasho's body and we call the police and they come and collect the body and went and collect his Rohan at his work place in Diamond," Lizzy said.
She said his body was discovered hidden under a piece of vinyl. Police had said the man was discovered with several chop marks about his body.
Around the Web