The Guyana Defence Force has launched an investigation into allegations by a 17-year-old Essequibo teen that he was mercilessly beaten by coast guards at Charity, Pomeroon last week.
"The matter is currently being investigated…once the group is found to be guilty of what the young man alleges, they will be disciplined accordingly," Army Chief of Staff, Brigadier Mark Phillips told Stabroek News yesterday.
Dhanniram Rodrigues, a labourer of Charity Extension Housing Scheme, had told Stabroek News that last Monday he was badly beaten by a group of men who he said have since been identified as members of the Coast Guard.
Rodrigues sustained a gaping wound to his right hand and injuries to his head and other parts of his body. His family said that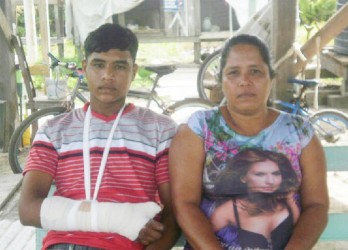 the matter was reported to the police but they had seen no action.
Yesterday, the army Chief of Staff told Stabroek News that since the matter was brought to his attention, an investigation was ordered. He explained that while he could not give a timeframe on how long the investigative process would take, he wanted to assure the public that once found culpable, the coast guards would be disciplined.
Relating his ordeal, Rodrigues had told Stabroek News that he was in the Xenon Night Club at Charity when the incident occurred and he was left stunned by the attack by the five men. He is convinced it was a case of mistaken identity as he said: "… I didn't do them nothing. I neva even see them before in meh life and now look at how much damages I get."
"I went going and buy three beers at the bar for my brother and my next friend when a man walk up to me and then four more man come up. Them pull me out of the club and start beating me," he added.
Further he explained that one of the men hit his head on a post causing him to feel dizzy. "That is when I hold on to the post and I ain't loose off. Another man come and he break a bottle and lash me on my hand. He keep rubbing the bottle on my hand for me to loose off but I aint loose."
Rodrigues said they then lifted him and threw him on the road in front of the nightclub. "A next boy try to save me when them went beating me and them stamp he in he chest and lash he on he back," he recounted.
The teen said that he managed to get away and "…I start run down the road to the police station and all a them start run behind me. I see a policewoman and I run to she but them man still try to rush up to get to me."
Rodrigues explained that blood from his wounds soiled the clothing of the female police officer. He said he was taken to the Charity Police Station after which he was taken to the Oscar Joseph District Hospital by a woman who had witnessed the altercation. The doctors at Charity transferred him to the Suddie Public Hospital because of the seriousness of the injuries he sustained.
According to the mother of the teen, "A ligament in his hand cut and we had to go for dressing. Monday I have to carry he back to do a surgery on his hand because it damage bad."
Rodrigues said he went to the police station the next day (Tuesday) and he was told to return on Wednesday to give statements. He said the men were in the compound when he returned on Wednesday and Welfare Officer Beatrice Parks, who is also a member of the area's Community Policing Group, identified them as members of the Coast Guard stationed at the Pomeroon River mouth. He said too that the men were dressed in their uniforms on Wednesday.
The teen gave a statement to the police and was able to identify three of his assailants to police who the family say are investigating the matter.
Around the Web