Two Chinese nationals, a man and a woman, were rushed to the Georgetown Hospital last evening after they were shot during an attempted robbery at the Zhen Xing Commercial Company at 67 Hadfield Street.
The incident occurred around 20:00 hrs, and left one of the injured with a gunshot wound to the buttocks, and the other with a similar wound to the leg. Neither of the wounds were said to be life-threatening.
The names of the injured persons remained unknown up to press time last evening as all of the relatives and friends of the injured who congregated at the scene of the accident and at the hospital, claimed they did not understand English.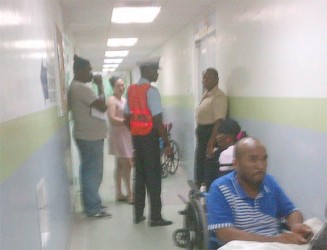 One woman, who accompanied the injured to the hospital explained to ranks from the Guyana Police Force that the two Chinese nationals were returning from the supermarket when they were confronted by two men. The woman speculated that the men might have waited until her friends/relatives opened the door to take their goods inside before they attacked.
The Chinese nationals reportedly put up a fight, which ended in them being shot. Their attackers are said to have made their escape by fleeing west along Robb Street. The Chinese national who was relating these details to the police officer was having some trouble understanding the questions being posed to her, and at one point, the officer exclaimed "I kinda lost, me aint know wuh going on."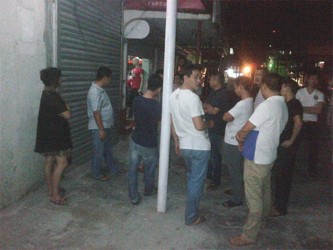 Ranks from the GPF eventually turned up at the scene of the incident, and within minutes they had detained a man who was standing at the intersection of King and Robb streets, and who had reportedly seen what had transpired.
As it turns out, the man is an employee of one of the Chinese nationals. Asked his reason for being where he was when the incident happened, the man said that he had been drinking, and was passing on his way home when he noticed the commotion. He suggested to the officers that he did not venture closer to the premises even after the incident finished because he had not been to work for some time.
Stabroek News understands that the store targeted by the would-be bandits, as well as several others in its vicinity are fitted with surveillance cameras, and a police officer expressed confidence that the attacks would be revealed when the tapes are examined. Ranks told the man that he will be in serious trouble if the tapes reveal that he had something to do with what transpired. (Chevy Devonish)
Around the Web