PNCR Chairman Basil Williams has criticised the Commission of Inquiry (CoI) into the death of Dr Walter Rodney for allowing hearsay evidence during the ongoing public hearings, while warning against "a free-for-all" that could damage the reputations of both individuals and organisations.
Williams, an attorney who is part of the legal team representing the PNCR's interest at the hearings, yesterday accused commissioners of suspending the laws by allowing evidence that would be inadmissible in a court of law but they denied the charge, while standing by their decision to relax the rules.
Williams' objections came while the Commission was admitting into evidence two books from Reverend Reuben Gilbert, who had moments earlier testified that the then PNC administration, led by Prime Minister Forbes Burnham, had refused him employment and blacklisted him as a "security risk' to the country.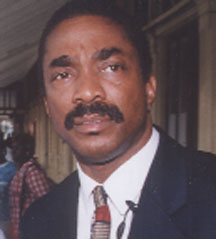 Gilbert also stated that he had been harassed and beaten by members of the PNC's youth arm, the Young Socialist Movement (YSM), during that time.
"The Commission has suspended Guyanese laws and so there is no filtering here. People can come in and say all kinds of things… basically is a free-for-all," Williams told Commission Chairman Sir Richard Cheltenham, while arguing that the probe into Rodney's death was a serious one and such evidence should not be allowed because it threatens to damage to the reputation of individuals and organisations.
Commissioner Seenath Jairam SC, however, objected to Williams' outburst. "Mr. Williams, I think you haven't thought through that statement. We have not suspended the laws. We are bound by the laws. You are making a very serious statement and it is reflecting very badly on us. I think you're not being fair to us," he said, noting that he was personally insulted by the statement.
But Williams fired back that while the Commission can make rules, those rules cannot eradicate the rights of Guyanese. Jairam, however, stated that CoI would "sift and determine the relevance" of all evidence presented in the trial.
Sir Richard also stated that the rules allowed for flexibility given the nature of the inquiry.
Williams then retorted that the commissioner must be aware of the "politically charged atmosphere" the CoI was being conducted in.
Commissioner Jacqueline Samuels-Browne, however, cautioned him to be specific about his objections. She stated that Guyana's laws give the Commission the right to make its own rules. "You have said the rules of evidence can be relaxed and adjusted for the Commission of Inquiry and the rules may be relaxed… so while your caution is accepted, when you raise these objections you should be specific as to the matter you are referring and not give a wide-ranging objection," she said.
Around the Web