-arrest warrants issued for witnesses
A witness yesterday testified that Jevon Wharton, one of the two men accused of the November 2007 rape and murder of nine-year-old Sade Stoby, gave a caution statement to the police of his own free will.
Meanwhile, two other witnesses had arrest warrants issued for them after they failed to appear to continue offering evidence when trial continued in the High Court.
Peter Leon Willems told Justice Navindra Singh and a 12-member jury yesterday that he was present on November 5, 2007, when Wharton relayed his version of what occurred on the day of Stoby's death to Assistant Superintendent of Police Elston Baird.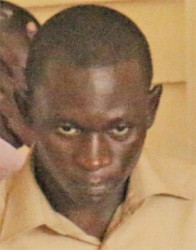 Willems explained that he was contacted by now retired Assistant Commis-sioner Paul Slowe, who was the Commander of 'A' Division at the time and who asked him to go to the Brickdam Police Station's Criminal Investigations Department (CID). Willems said when he arrived at Brickdam CID, he met with Baird, who asked him to be present when he questioned Wharton about his involvement in the rape and murder of Stoby. "He [Slowe] wanted me there," stated Willems, adding "since a young boy was being questioned."
Wharton was 16 at the time. His co-accused, Charles Cush, had been 14.
According to Willems, when Wharton was being interrogated, it was only himself, Wharton and Baird in the room. He assured the court that he had never met Wharton before nor was he privy to reason for the interrogation. He said after identified himself, he examined Wharton's body and face for injuries but found none and explained the nature of his presence to Wharton. "I was there to look after his welfare, [to ensure] that nothing bad happened to him, prior, during or after questioning," Willems stated.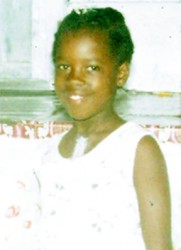 Additionally, Willems said he asked Wharton before the questioning if he had in anyway been maltreated by the police and Wharton said no. Willems said he, at various intervals during the interrogation, asked Wharton if he had been injured in anyway by the police, and on all occasions Wharton responded in the negative.
Willems said at no time did Wharton admit to killing Stoby. However, he said when Baird asked Wharton if he was prepared to give a caution statement to the police, he consented.
Subsequently, Wharton was cautioned about what he consented to do and after the form came he was briefed about the purpose of the caution statement, Willems told the court. The court heard that after each paragraph in the statement, Wharton was informed of what he had written so as to ensure he understood. Moreover, Wharton's statement was read to him in its entirety and he was told that he could change anything he wanted before he signed or if he wanted to sign it. Willems said Wharton eventually signed it, following Willems signature as a witness. "No force was used on Jevon or Baird," said the witness.
Willems said he remembered Wharton saying that he and Stoby went into the field to have sex. He added that Wharton also said Stoby took off her clothing and the two had sex. Willems testified that Wharton's statement mentioned that he left Stoby in the field. Willems added that Wharton subsequently went back to the field and found her laying, after he had heard Stoby went missing.
As Willems relayed what he had heard during Wharton's questioning, Stoby's mother was seen drying tears from her eyes. Meanwhile the accused just sat in the prisoner's dock and looked around at intervals.
Willems told the court that he gave a statement of his own after he witnessed Wharton's questioning and statement being written. That statement was taken by one detective corporal Blair.
Meanwhile, when Wendella Knights, the aunt of Cush, and Royston Blair failed to appear in court, State Counsel Judith Gildharie-Mursalin informed Justice Navindra Singh that all attempts to contact both witnesses were futile. Gildharie-Mursalin told the judge that she called the home of Knights on several occasions but was always unable to speak to her. She added that she had resorted to sending a police officer to the home, however that rank too was unable to locate Knights. Finally, Gildharie-Mursalin said she left a message with a child, who answered Knights' phone and the child informed her that Knights had gone far away. Furthermore, the State Counsel said Police Corporal Royston Blair never answered her calls.
In the light of those revelations, Justice Singh issued arrest warrants for Knights and Blair, stipulating that they be kept in police custody until May 6, when the trial will continue.
At the last hearing, the caution statement of Cush was admitted into evidence. Cush in that statement admitted that he witnessed Jevon Wharton and another man rape nine-year-old.
Wharton is represented by attorney Raymond Ali and Cush is represented by attorney George Thomas.
Around the Web