-says statements misconstrued

A week after a recording of Permanent Secretary (PS) Nigel Dharamlall surfaced in which he threatened to bar access to his office and withhold stipends from Amerindian leaders, Minister of Amerindian Affairs Pauline Sukhai stood by his claim that his comments had been "misconstrued."
During a press conference at the ministry yesterday, Sukhai maintained that Dharamlall's statements had been "taken out of context. What the Permanent Secretary sought to do at the briefing was to correct the conception or the misconception that the ADF [Amerindian Development Fund] and the CDP [Community Development Project] is a UNDP project."
She continued, "There are a few leaders and even CSOs (Community Support Officers) who continue to refer to the project as a UNDP project. The UNDP is actually collaborating as a partner with the Ministry of Amerindian Affairs for implementation of projects. The first pilot phase is being implemented by the UNDP and the funds come from the Government of Guyana."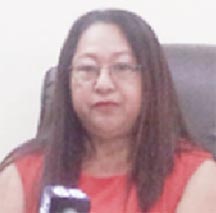 "He [Dharamlall] was just explaining to those who still have not yet grasped the fact about the involvement of the UNDP," the minister reiterated.
When questioned by this publication on whether Dharamlall's threats to bar access to his office had also been "taken out of context," Minister Sukhai said that they had, stressing that the PS had an open-door policy.
"If anyone knows the Ministry of Amerindian and how we operate, this minister has an open door to every single one, outside of indigenous people also. And the PS, he also has an open door policy," she said.
"No public official will blatantly try to threaten anyone… they serve to have a closed-door policy. That is not within this government's remit and the ministry's remit. So I will do likewise as the PS say; you guys listen to the tape properly," Sukhai advised.
At a meeting on April 14 at the Guyana International Conference Centre, Liliendaal, East Coast Demerara, Dharamlall was recorded while telling the Amerindian leaders and others present that the government was paying the UNDP eight per cent of the money budgeted for the project to help implement it. "The LCDS [Low Carbon Development Strategy] is the Government of Guyana…the people of Guyana…I don't want any single one of you to ever again— and I keep saying this over and over —any CSO who says they are working on the UNDP project called the CDP I want you off the CSO project," he said.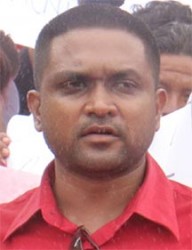 He continued, "…Any Toshao or senior councillor who represents to any village that the CDP is a UNDP project, you don't have access to my office. I'm coming hard line on people who don't see a future and who don't want to be part of the development of the country. How many of you think the CSO project is for employment?" After receiving no response from them, he questioned: "None of you feel so? So we should stop paying you the stipend?"
Dharamlall's comments have garnered condemnation, with APNU Member of Parliament Joseph Harmon opining that he ought to be fired.
Meanwhile, during the press conference, Sukhai also indicated plans to seek to "legally" reinstate allocated funds cut during the 2014 budget. "…Not only the Ministry of Amerindian Affairs capital budget which holds all the developmental funds that affect positively the activities and projects in the Amerindian communities, but all the other areas that were cut in the budget."
Last month, the Ministry of Amerindian Affairs failed to secure approval for its proposed $1.1 billion Amerindian Development Fund during the consideration of the budget estimates. The total allocation had been voted down due to concerns about potential misuse by the administration for electioneering and about the effectiveness of the projects to be funded.
Around the Web