– after marks on body cast doubt on alcohol poisoning report
The family of a young mother, whose death last Wednesday was reported to be the result of alcohol poisoning and gallstones, are calling on police to investigate the marks of violence they found on her body.
Donna Sam, 21, of Aruka River, North West District was found dead in her bed at Tiger Creek, where she had been a sex worker. Relatives, who have since viewed her body, said that her neck appeared to be broken and in addition to a cutlass mark on her belly, there were visible black and blue marks about her corpse. As a result, they are now calling on the police to launch an investigation into the circumstances surrounding the woman's death to ascertain whether foul play was involved.
Speaking to Stabroek News via telephone from Port Kaituma shortly before a funeral service for Sam was held, her sister Jamma Daniels explained that the "boss lady" made contact with her and explained that the day before Sam had died. The young woman said that when she inquired about how Sam met her end, the woman explained that she had been drinking Red Bull, Guinness and vodka and later retired to bed. Daniels said the woman said that when they later checked on Sam, they found her dead in her bed.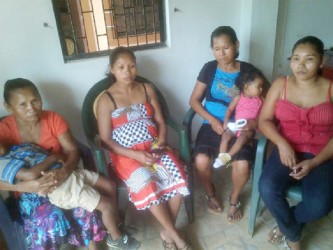 Asked if her sister drank a lot, Daniels responded in the affirmative but said that as far as she knew Sam never consumed vodka and was not in the habit of mixing her drinks.
Daniels, who said that Sam had a three-year-old son, explained that her sister travelled to Tiger Creek in February, where she sought employment as a sex worker. She said her sister has often complained that the "boss lady" was withholding her money.
According to Daniels, by the time the woman made contact with her, people had already informed her mother of Sam's death. She said that based on what the woman said, Sam's body arrived at Port Kaituma around 11 pm on the day that she was found dead.
"The boss lady tell we don't worry 'bout de expenses, she would look after it," she said.
Another sister, she said, travelled to Port Kaituma while she and her mother arrived in the community on Friday. She said that by the time she arrived the post-mortem examination had been completed.
She said the police explained to her sister that Sam died as a result of the mixing of alcohol and gallstones, a medical condition she knew her sister had.
According to Daniels, when they viewed the body yesterday they saw marks of violence. "I see a cutlass lash across her belly. There was black and blue marks on she face like if she get beat up. Black and blue on the ribs and all she neck going round like if it break," the grief-stricken woman said. She added that she was aware that her sister had spoken to the police about the case but she was unsure if an investigation has been launched.
Asked who may have wanted to harm her sister, Daniels told this newspaper of an incident sometime back which landed her in the Matthew's Ridge Hospital for a night and a day. She explained that her sister had told her that a girl had beaten her up. "This girl may have something to do with it. They [the police] should look into this because I am not pleased with what I see," she said.
Around the Web