The children of Pamela Martin and Victor Peres are now living at separate homes following the deaths of their parents on Easter Monday in a murder/suicide at Port Kaituma.
Martin's sister, Christine Martin said that Peres's relatives traveled to Port Kaituma from Georgetown about a week ago and collected the couple's 16 and 5-year-old children and took them to the city while she looks after the two other children.
Residents of Port Kaituma were concerned about the well-being of the children after Peres shot and killed his wife around 4 am on Easter Monday before taking his own life. The couple was buried on April 26.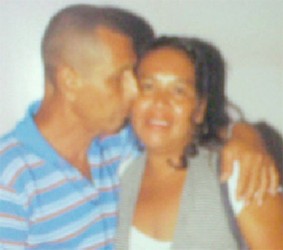 Christine said the children are coping with the loss of their parents.
Peres' angry fit appeared to have stemmed from an alleged affair on Martin's part after she had been out of the house since Saturday morning and only returned on Sunday night.
On Monday morning, reports had stated that Peres physically abused his wife before shooting her twice, once to the head and once to the stomach.
Around the Web