PPP General Secretary Clement Rohee has denied any knowledge of the distribution of a campaign letter in Stevedore Housing Scheme seeking support for the party.
Rohee told Stabroek News that he was not aware of any ongoing campaign and instead only became aware of the letter when a report was published in the Sunday Stabroek.
Rohee denied that the PPP was responsible but did note that there was nothing wrong with ongoing campaigns while pointing out that APNU has also been consistent in recruiting votes. He recalled that APNU has most recently done outreach campaigns through public meetings at Corriverton in Region Six.
APNU launched its local government election campaign last December and has sought to engage residents over the first quarter of this year.
At the same time, the ruling PPP/C has remained non-committal to dates for either local government elections or the possibility of calling national elections although it has continued to hint that there is a possibility for both.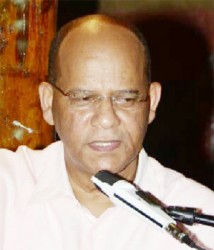 Over the weekend, Stevedore residents confirmed that an open letter was distributed by hand to residents urging the community to vote for the PPP/C.
While Rohee denied knowledge of the campaign, Stabroek News was told that those persons distributing the letter, which was unsigned, were affiliated with the party.
The letter, seen by this newspaper, credits the PPP/C with continuing to steer the economy in the right direction and investing hundreds of millions in key social sectors, including education, health, infrastructure, housing and water, drainage and irrigation, and agriculture.
In addition to trumpeting gains in education, healthcare and agriculture, it also says that since the 2011 general elections the PPP/C administration has distributed more than 12,000 new house lots "so that Guyanese can have their own home."
The letter cautions against "any effort aimed at stymieing and delaying the development" of the country. "We must work together to ensure that the PPP/C remains in office so that our dream for a prosperous and economically viable Guyana can be realized," it implores, saying this was necessary to securing "our children's future," "our family's welfare" and the welfare of the country on a path of progress.
Around the Web