A decision on the way forward for the contentious $300M USAID Leadership and Democracy (LEAD) project is likely to be announced today as Head of the Presidential Secretariat Dr. Roger Luncheon and United States Ambassador Brendt Hardt are to brief the media this morning.
"The Cabinet Secretary and the US Ambassador have agreed to jointly appear before the invited media to make representations on an update on this LEAD project," Luncheon told a press conference yesterday.
While he would not go into details of the press conference, the Cabinet Secretary, when asked about the nature of today's meeting said "I am not anxious to steal the thunder of the Cabinet Secretary and the US Ambassador …this fuming period of unsettled business would be settled shortly …I think you can say that both sides have agreed on what would be disclosed tomorrow".
Although he took jibes at the US Ambassador, Luncheon said that that while government has revoked the work permit of the head of the LEAD project, Glenn Bradbury, asking for Hardt's removal has not been an option of government.
"I would say this ambassador has tested our nerve and mettle and as (PPP General Secretary Clement) Rohee said he is indeed a meddler but it does not mean by any stretch of the imagination that it is anything you talk about… Our feeling is the ambassador needs to leave in great style," he said.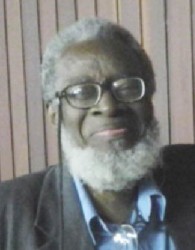 "The USAID LEAD project , one must not blow it out of proportion as the old people say 'One swallow doesn't mek a summer'", he added.
He said that a constructive engagement has also been the desire of his government and opined that view also mirrors the intent of the U.S government.
Georgetown and Washington have feuded for months over the project. Despite the government's reservations, the US has continued with the project, noting that its objectives fell well within the 2009 framework agreement between the two countries for bilateral programmes.
A number of meetings have been held between the two sides aimed at arriving at an accommodation. The announcement by Luncheon last week that Bradbury's work permit was revoked for offending the laws of Guyana was met with great surprise.
The government has made various objections to the US project including that it was not consulted on it and it is intended to funnel funds to the political parties. These contentions have been strenuously denied by Hardt.
On the 18th of October, 2012, Hardt wrote to President Donald Ramotar informing that USAID was planning the project and asked for support. He noted that as part of the planning process, personnel from USAID's Barbados and Eastern Caribbean Regional Office would be in Guyana later in the month to meet with local stakeholders, develop an understanding of how to best strengthen local political institutions and processes and provide further background on elections and political processes funding goals. "I am writing to solicit your support in coordinating a meeting with appropriate leaders within your party to hear your insights and perspectives on a range of issues central to supporting open and effective participatory democratic practices in Guyana," the ambassador write. The two met on October 29th and the president provided information on a range of issues. On November 29th, the Ambassador again wrote thanking him for the meeting and enclosed a synopsis of USAID guidelines on working with political parties. The Ambassador stated that this was to guide and provide assistance to all political parties during implementation.
Then on December 12th, the PPP wrote alluding to "dangers of this programme." "The PPP is reiterating its reservations about the project and its relevance to domestic politics," the letter said.
Hardt, in reply, said no specific concerns were cited but offered to address the general issues raised and his correspondence included information on USAID's track record in Guyana and its record of success and fairness.
He also pointed to the administration's correspondence to diplomatic missions, including the US Embassy, in which it had warned that Guyana is "under threat" as a result of the opposition's parliamentary control and appealed for support. "I note that the Government's December 11 briefing calls on the Embassy to consider what steps it might take `in support of the protection of parliamentary democracy and the legitimacy of a democratically elected government.' This USAID program is designed precisely to encourage a more representative and competitive multi-party system; effect a broadening and sharing of political power, and support consensus building aimed at promoting peaceful agreement on democratic reform," he wrote. "In light of the Government's concerns about political stability and the importance of strengthening parliamentary democracy, I can think of no more appropriate action we could take than to move forward as expeditiously as possible with the proposed program."
Hardt also pointed out in that letter that USAID had had a long record of engagement here in support of democracy and governance. "Indeed, in the last elections, USAID provided critical support to the Guyana Election (s) Commission, assuring the integrity of the voter registry, training poll workers, and ensuring all major media outlets and scores of journalists signed a Media Code of Conduct for Elections. USAID has supported voter education and outreach to young voters and domestic election observation to reach most of the country's 2,200 polling stations. Thanks in part to USAID support in the last election cycle, there was widespread voter confidence in the electoral process and the elections were deemed to be free, fair and peaceful".
The correspondence continued throughout the year and then on August 8th last government sent a letter saying it was not comfortable with the programme and wanted more detail on how it would be put into action.
USAID Mission Director Dan Smolka, on August 22nd met with, government officials and provided a detailed description of the contours of the project. A detailed outline of the project was sent again to government. "We trust that this description will help address the Government's interest in a more detailed overview of the project's goals and approach in strengthening parliament and the interactions among parties in parliament, supporting local government elections through civic education and boosting engagement of young people and women in politics," Charg̗é d'Affaires Bryan Hunt wrote to Luncheon on behalf of the Ambassador on August 26, 2013.
Around the Web