-after no-case submissions overruled
The two men accused of raping and murdering nine-year-old Sade Stoby at Mocha yesterday led their defence after Justice Navindra Singh overruled no-case submissions made by their lawyers.
On Friday, November 2, 2007, Stoby left her school after it was dismissed but never arrived home. Two days later, her body was found a short distance away from her home in a drain at Sixth Field, Barnwell, Mocha, East Bank Demerara.
"I didn't rape this girl and I didn't murder her. I was forced to give a written statement," Jevon Wharton, 23, told the jury yesterday in the High Court. He was at the time giving an unsworn statement from the prisoner's dock.
His co-accused, Charles Cush, 21, said he was intimidated to give a caution statement to police which placed him at the scene of the crime when Stoby was murdered. He said he was told if he gave the police a "story or a statement," then he would be used as a witness in the murder.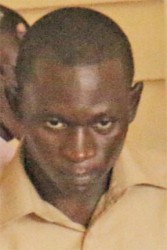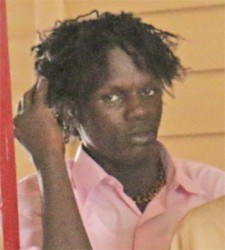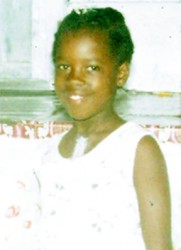 In his unsworn statement, he said he told officers at the Ruimveldt Police Station that the last time he saw Stoby was the Friday she went missing on a bridge. He recalled that Inspector Elston Baird called him into a room and questioned him about the girl's death. "I tell them again that the last place I see her was on the bridge and I didn't see nobody do nothing to her. I didn't see how far she go," he said.
He said that Baird left the room and Corporal Royston Blair entered and questioned him again. He said he once more said he knew nothing. He said Blair called his mother inside the room and she started to cry after the police kept questioning him and he kept telling them the same thing over and over. He said his mother was then sent out of the room.
Stapled
"My hands were stapled (handcuffed) down to the chair and he place a bag over my head and was beating me. It felt like a book. While he was beating I squealed out loud and Inspector Baird come in and say take that bag off that guy face. I was crying," he said. "He tell me don't cry all I have to do is give him a statement or a story how the murder happen."
He said Inspector Baird swayed him further after they had taken him to a hospital. "He tell me give them a story or a statement and I would go as a witness in the matter…I didn't really say anything. He just asking me questions and I was saying no or yeah. And I didn't tell nobody nothing," he added.
Cush said on November 2, 2007, he was at his sister's home and was swimming when she asked him to buy ice from a shop in the village. "Coming home back I stopped by the bridge. There I leave my bicycle and the ice by the bicycle I go pon a moving punt. I get the cane. Sade Stoby shout my name and said she need a cane. I didn't get her the cane I throw it to her on the bridge because the punt was moving. I take out cane to carry for my mother and myself and after I leave and go back by my sister to carry the ice," he recounted.
Later that afternoon, he said, he towed his mother to a church and they stayed there till night. He further stated that he went to Sophia and spent the rest of the weekend there. "I leave and come back in the village on the Monday….the deceased family hold on pon me then they take me back to the shop on the road. Then the father snatched me…he snatched me again because the first time he didn't get me. When he was holding me, I feel like my back was blistering. Then the big brother come and say, "You playing a big man come we gon cut off his penis." They try to get my penis and I was fighting up. Then a bus come and they throw me into the bus and strip me naked in the bus. The big brother was still pulling at my penis… they take me to the Providence Police Station," he said.
"I didn't kill Sade Stoby, beat Sade Stoby or do anything to Sade Stoby," he added.
Meanwhile, Wharton's attorney, Raymond Alli, called two witnesses to testify yesterday on his client's behalf.
Wharton's cousin, Owen Trim, who was working with him at that time at Hacks Hollow Block factory in Providence, testified that he saw Wharton leave the workplace around 3:30pm the day Sade disappeared.
Trim recalled that it was pay day and they were going to sign a payroll. During cross-examination senior state counsel Judith Gildharie-Mursalin suggested to him that the day Stoby was murdered Wharton left work early since work closed off at 2:30 that afternoon. She suggested to him that by 3 pm, all workers were paid and had left the factory. Trim denied it.
She questioned him further by asking if he remembered the time Wharton left work on November 1 but he couldn't answer.
"Your sole purpose, the reason why you are here is to help your cousin," Gildharie-Mursalin told him. "So you are deliberately exaggerating the time!"
Justice Singh then questioned him as to why he specifically remembered the time Wharton left that Friday but could not recall the day before and he stated that it was a fixed time they always left. However, the checkout time at the factory is 4pm.
Alli also called the factory sales manager Ram Kissoon to the witness stand, who testified that Wharton visited his office around 3:30pm to receive his weekly wage. When asked by Gildharie-Mursalin if the time Wharton had left was recorded, he said no. He stated that there was a fixed checkout time, adding that workers were supposed to leave work at 4pm but he would send them home around 3:30 pm.
Gildharie-Mursalin asked him if he had looked at a watch to know the exact time Wharton had left and he said no. "You are relying on what normally occurs. You can't say with certainty what time Wharton left that day because nothing was recorded," she said. "This is an erroneous record which you yourself admit."
However, Kissoon maintained that Wharton left work around 3:30pm that day. "Is it an acceptable practice in your company to falsify records?" Justice Singh questioned and he said no.
The defence subsequently closed its case due to the absence of a witness to be called for Cush. The trial will continue on Monday with both the defence and the state giving their closing arguments.
Around the Web