Four witnesses offered evidence yesterday in the preliminary inquiry (PI) into the murder charge against Dellon Abrams, who stands accused of killing policeman Seburn Elias, during a brief escape on January 6, 2014.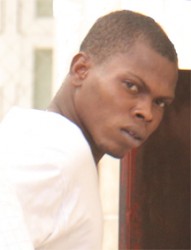 It is the police's allegation that Abrams, 23, of South Ruimveldt Georgetown, shot Police Detective Corporal Seburn Elias.
Alana Elias, the wife of the deceased, and three police witnesses testified before Chief Magistrate Priya Sewnarine-Beharry at Court One of the Georgetown Magistrates' Courts. Detective Inspector Ray Geness and Constables Mandela Collins and Josiah Vyhuis were the police witnesses who testified.
On Tuesday, Sergeant Morguyya, Lance Corporal Harper and Constable Maxwell Grant offered their evidence.
The PI is to decide whether there is sufficient evidence for Abrams to stand trial for the murder in the High Court.
Abrams allegedly shot Elias during an attempt to re-arrest him after he escaped from the lawful custody of police while awaiting medical attention at the Georgetown Public Hospital (GPH).
Mangru informed the Chief Magistrate yesterday that eight more witnesses are yet to offer evidence. He said three of those witnesses are police witnesses.
The PI will continue on May 12.
Around the Web