Seon Blair's "mistakes" yesterday earned him a two-year prison sentence.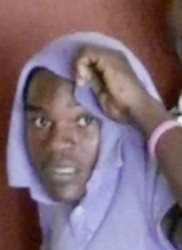 Blair recently admitted to stealing more than $70,000 in clothes and electronics from a Kitty home, for which he was sentenced on Friday by Chief Magistrate Priya Sewnarine-Beharry.
Prior to his sentencing, a probation report that was ordered by the Chief Magistrate when Blair first appeared before her facing the larceny charge, was presented.
Blair was previously sentenced on two separate occasions for 12 months and one month for matters of a similar nature.
According to the report, present by Probation Officer Joseph, Blair, who never completed school found it difficult to maintain a job and preferred to steal rather than earn what he wanted. The probation officer also related to the court that Blair indulged in illegal narcotics and often smoked these substances in the presence of his children.
In an attempt to explain his actions to the Magistrate during his arraignment, Blair had said "Sometimes the devil busy…." He added, "I aint gon lie; everybody does make mistakes."
Around the Web