The Ministry of Tourism of Guyana and Chilean government yesterday entered into an agreement to aid in the eradication of extreme hunger and poverty in select rural communities in Guyana through the implementation of a US$200,000 collaborative project.
The project was developed after the completion of submission of proposals from the Government of Guyana to the Chilean government and was initiated late last year.
In the boardroom of the Ministry of Tourism yesterday, acting Minister of Tourism Irfaan Ali announced that the project will be split into three components and will cover selected rural communities with a heavy emphasis on business development.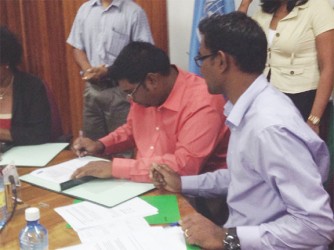 The first component, Ali said, focuses on eco-tourism and developing an eco-tourism marketing strategy and is valued at US$80,000.
He noted that eco-tourism holds much potential for the economy and is usually community-based. He added that this aspect will include the teaching of the best practices in terms of the eco-tourism industry, joint collaborations and assessments, and boosting human capital.
The second component is valued around US$100,000 and focuses on capacity building for rural-based enterprises. According to the minister, ten community enterprises are being looked and will complement the $1 billion Rural Development Fund allocated in the 2014 budget.
"This will help us to develop and equip rural entrepreneurs with the capacities and skills in order to manage their businesses and to create more efficient businesses," Ali said.
Ali added that the grant will focus on creating an enabling environment for persons who are in the small business arena and those communities that have community-oriented business projects.
According to Ali, some small businesses have already started work on their proposed projects.
The final US$20,000 component focuses on the procedures of starting and sustaining a small business, Ali said. Sustainability exercises will include training and assessments. He noted that many small business owners would begin their trade without assessing the viability of their jobs. The project will attempt to alleviate such shortcomings.
Ali lauded the partnership with Chile and deemed it timely. "This grant is coming at a good time; it comes at a time when we are focusing a lot in government on entrepreneurial development, improving livelihood, expanding livelihood options…," Ali said. "This is indeed a very critical project. We look forward to a timely implementation and for the benefits of the project to trickle down to the most vulnerable and poor in our society and to build a strong, sustainable future for those persons."
The project is scheduled to be implemented within a one year period.
Around the Web