-as pledges continue to pour in
The family of Javier Anderson is overwhelmed by the outpouring of support from private and corporate citizens to assist in raising money for the eight-year-old cancer survivor's prosthetic leg and physiotherapy.
Javier's mother, Lizanna Anderson, told Stabroek News that yesterday she met with officials at the Guyana Bank for Trade and Industry (GBTI), where a bank account was opened for the youngster. GBTI has already contributed $60,000 to the account for the boy, who lost his right leg to bone cancer.
Lizanna Anderson stated that she was very grateful that the bank had given her son such an opportunity. (The account, No. 001054471018, is registered under Javier Anderson's name for anyone wishing to make a donation to the youngster's rehabilitation.)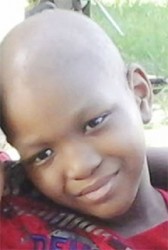 The mother also said that she has been contacted by various corporations willing to also give assistance and she hopes to meet with them this week.
The youngster was diagnosed with Osteosarcoma, an aggressive bone cancer found predominantly in children and had to have his leg amputated. He is currently undergoing chemotherapy, but hopes to receive a prosthetic leg for his birthday next month.
Anderson told Stabroek News that the prosthetic leg will cost $500,000 and that was not including the physiotherapy that he would need to adjust to life without his left leg. "I too want him to have a leg but it's $500,000 and we don't have that money… I pray that someone hears and can give him what he so badly prays for," she had told Stabroek News in a previous interview.
The spunky cancer survivor, who is in good spirits, had expressed some frustration that he had finally learned to swim and then lost his leg to cancer. "I want to be back in the water and be able to swim again and play cricket …and you know I will. I just know I will. All I need is a leg," he had said in an interview.
He was grateful for his mother's love and support and said that with her help he would re-learn all of his favourite physical activities in time. The boy had recalled that after growing up in an abusive home with his father, he was proud of his mother for her strength to leave and start anew with him and his younger brother.
Earlier this week, Kanhai's Guyana Electri-cal Agency was the first to reach out to the family with proprietor, Kamal Kanhai telling Stabroek News that his wife was very moved by Javier's story.
The Andersons can be reached at Lot J4, 936 Jackson Street, Tucville or on telephone numbers 223-1068 (home) or 602-7631(mobile).
Around the Web