"What do I have to do to get justice?" This is the question Pram Narine is asking himself six years after his son was shot dead by a person or persons unknown at an unauthorized police roadblock at Middleton Street, Campbellville.
Though overcome with grief and frustrated at the police's disinterest in the case, Narine called on the new Police Commissioner (ag) Seelall Persaud, the government and the opposition to take every action they can to ensure that not only his family, but others in similar situations get justice.
Noting how unfair life has been to him and his family, he said that crying has become a norm for him as he often thinks about the sacrifices he and his wife had made in raising Ryan Arjune Narine as well as the sleepless nights his son endured to educate himself. He said the family's wounds are still raw.
Ryan was gunned down on May 14, 2008 and as expected, the anniversary this year was laced with sadness and grief as the family not only reflected on his life and how he died, but also on how the police have failed them.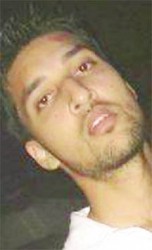 Speaking to Stabroek News recently an emotional Narine said that since the killing, there has been no change. He said the shooter is still at large and there is no word as to his identity. He held firm to the belief that someone out there possesses information that can lead to this person but may be afraid to come forward.
He said despite the length of time that has passed, he still hoped the police would do some work. "The police not doing nothing in this case. I am asking the government, what you gotta do to get justice? Do you have to pay police? Do you have to put out a ransom? What do I have to do?" he said tearfully.
The man said that for six years he has pleaded particularly with the police to ensure he gets justice and will continue to plead. "It seems that giving out a reward is the only alternative. There are a lot of unsolved crimes," he said.
Narine recalled how several officials who held high offices had responded to his pleas and promised to help him. "Everyone made promises and everything is still pending, nothing has happened," he said.
He told Stabroek News that following the killing he had approached Donald Ramotar who was not yet president of Guyana. He said Ramotar recognized his son as a friend of his (Ramotar's) son and had sent him to Home Affairs Minister Clement Rohee. The man said Rohee promised that the matter will be dealt with.
"They kept promising," he said stressing that he firmly believes that the police know what happened but for one reason or the other don't want to solve it.
On May 14 around 9.30 pm on a narrow, poorly lit Middleton Street two police ranks; one in uniform and the other in plain clothes chose to stop a car and check documents belonging to its occupants. This created a traffic block due to the manner in which the uniformed rank was positioned. This resulted in a backup of two vehicles — Ryan's and Larry Gursahai who was behind him.
Within a few minutes of them being stalled on the road a car pulled up alongside the checkpoint, a gunman disembarked and a fusillade erupted. Ryan was fatally wounded and Gursahai also sustained injuries. The uniformed rank fled the scene in the injured Gursahai's vehicle stopping for the man to exit after Gursahai refused to drive to the Kitty police station. The other rank jumped into a nearby ditch and later emerged to call for backup.
Ryan's family had previously rejected assertions that he was executed and called for an intensive police probe.
Responsible
Narine told Stabroek News that the police were partly responsible for his son's death. "No one was aware of this road block… What were they looking for?" he asked, while adding that it saddens him that the ranks faced disciplinary charges as opposed to being placed before the court.
"Disciplinary action is not good enough, there should have been criminal charges. So that they could be an example so that it wouldn't happen again. They got off while an innocent life went down the drain," the man said with raw emotion.
Asked if he knew the current whereabouts of the ranks, he said he was unsure but the last information he had was that one was still at the Kitty Police Station.
He said he had no reason to believe that they have exited the force.
Four months after the incident, one of the policemen was the subject of disciplinary action. A senior police officer had told this newspaper that the investigation into the incident was two-fold: the murder itself and the allegations made against the police. He had said while nothing new had come out of the murder investigation, the police were advised that the officers who were at the checkpoint be warned. He said too that one of the policemen was subjected to disciplinary action be-cause he did not report that he was going out on duty that night.
It was surmised that the two policemen had set up the roadblock so as to collect money (bribes) from drivers.
Narine expressed the opinion that what is needed is for an independent crime specialist from abroad to investigate killings such as his son's.
He said that if that had been done then, "we would have gotten somewhere by now."
Asked how come he has not given up after so much time has passed, he said that at one time he feels like the case will never be solved and then "one time I feel like someone will come forward. The way it going to seems like nothing will happen", he said adding that he cannot afford to give up now.
He said he feels as though God is refusing to answer his prayers but "I continue his (Ryan's) charity work. I feel more than frustrated but I can't give up."
The man said he often passes the spot where his son took his last breath and his heart would wrench.
He said too that he visited the area more than once trying to find out what happened that night but didn't get much information. He said the spot is still dark at night and is in need of street lights, a project that he would contribute to if need be.
Overcome with emotion, he told this newspaper that he remembered that night as if it were yesterday. He said that he often thinks about their last conversation. "I just sit and cry sometimes. I make so much sacrifice and then he dies. He also worked hard and made a lot of sacrifice," he said.
He added that sometimes he wonders what it would have been like if Ryan were alive today.
"I really need this matter to be solved. I still believe people know what went on and don't want to come forward because they are scared," he said while urging those persons to go to the police with whatever information they have.
For the anniversary, he said, he fed an orphanage on the East Coast and also conducted a religious function in honour of his son.
Around the Web