As the rice industry continues to boom Guyana has exported over 93,000 tonnes of rice since the beginning of 2014, a significant increase from last year according to the Guyana Rice Development Board (GRDB).
The industry has already harvested over 300,000 tonnes in the first crop with regions 5 and 6 to complete their harvests within the next two weeks. General Manager of the GRDB Jagnarine Singh said that access to new markets continues to be the focus as Guyana's industry expands.
He highlighted that there are talks to acquire an African market, but that this was in the beginning stages. Singh told Stabroek News that small milling services in various parts of the United States have also reached out to Guyana looking to make an agreement.
This venture too is in the beginning stages and as a result the GRDB did not wish to disclose terms and conditions prior to an agreement being reached.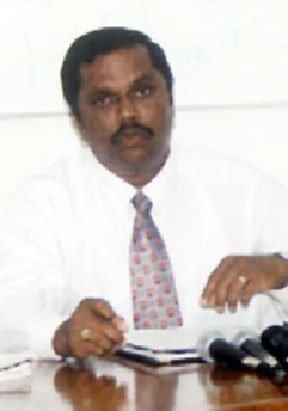 Singh said that every current export market has already seen an increase for the year. April's exports were over 42,000 tonnes with shipments to the European market being just under 11,000 tonnes. He said that 6,500 tonnes were shipped to Portugal, 4,000 tonnes to Trinidad and Tobago and 3,000 tonnes to Jamaica. He said that Guyana's replacement of the American export market in Jamaica has been extremely positive and the GRDB remains focused on growing the current market while seeking new ones.
"Every little bit counts… We are doing far better. Yes, we know that we have to actively work and we are trying our best," he said, to find new markets and to work out beneficial agreements.
Dharamkumar Seeraj, the Rice Producers Association's (RPA) General Secretary, echoed the GRDB's opinion revealing that pricing was the biggest issue when establishing new markets.
He told Stabroek News that Guyana would need to sell at between US$520 and US$540 per tonne to be globally competitive and ensure farmers and millers are adequately compensated at home. He said Guyana has the capability to grow more varieties and to export to different markets and as the industry was growing so was the pursuit of markets.
Stabroek News asked about large scale markets and what was being done to pursue these. Seeraj said the RPA has been in talks with an American company to secure an agreement which will see 50,000 tonnes exported annually with the potential to export up to 70,000 tonnes.
"We are in the initial stages and we have to look at all the different parameters… This particular group is looking at a lot of rice," he said.
He added that Guyana had to be more aggressive in finding large-scale markets. He said the RPA, the GRDB and the Agriculture Ministry were working cohesively to attract markets and with the expansion of current markets the sector was doing well to advertise across the board.
With the first crop coming to a close, rice on hand is just under 400,000 tonnes.
Stabroek News asked how the industry would ensure that this massive amount of product would be gone or lowered substantially before the start of the second crop and Seeraj cited Guyana's various export agreements, highlighting that each shipment has seen an increase for 2014.
He said there has been a push to get millers more invested in the export of rice because private ventures would need to happen for the industry to continue to be prosperous.
So far this year there has been a private sector initiative between SAJ Rice Mill and partners in Haiti for a 50,000-tonne export deal annually.
The GRDB facilitated a few smaller markets including Belize which will see at least 5,000 tonnes of rice exported. Jamaica's annual import of rice from Guyana which used to be capped at 50,000 tonnes has increased since Guyana offers a lower pricing. Quantities were not available.
In 2013, the sector produced over 535,000 tonnes of rice. This year, Agriculture Minister Leslie Ramsammy said, it could easily top 600,000 tonnes.
Around the Web