A young mother was fatally stabbed at Angoy's Avenue, New Amsterdam on Monday evening and the father of her infant baby, who later tried to end his own life, is accused of committing the brutal attack.
Oneka Greaves, 18, of Caracas Village, Angoy's Avenue, New Amsterdam, is believed to have been attacked by Robert Leon Fredrick Stanley, 48, also of Angoy's Avenue, in retaliation for ending their two-year-old relationship. Greaves, who had recently left Berbice for Georgetown, was lured back to the county by Stanley, who allegedly attacked her in her yard at about 7pm on Monday.
Greaves succumbed early yesterday morning at the New Amsterdam Hospital after undergoing emergency surgery following the brutal attack, which left her with gaping wounds about her body. Stanley, who is the father of five children, is now a patient at the hospital after he ingested a poisonous substance.
Greaves told Stanley that she was ending the relationship and he should move on, her mother, Abiola Greaves, called 'Abby,' said yesterday.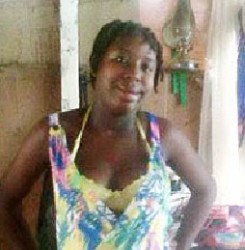 According to Greaves, Stanley was a family friend who was normally around their home. She had no idea about how the relationship started between her daughter and the man but she said when she learnt about it, she disapproved and made her feelings known.
Although Oneka did not listen, she said, during the course of last week she apparently changed her mind and told Stanley about her intention to quit the relationship and left for Georgetown.
Oneka left four-month-old Orieana Oneka Stanley, the child she shared with the man, with her mother. The woman said Stanley subsequently contacted Oneka and told her the baby was sick, prompting her to return home on Monday morning. "I didn't even know that she deh coming home. Her sista tell me she coming but I didn't believe, because I know the baby okay but then my husband said look she deh by the gate," Greaves said.
It was in the evening, the mother said, that Oneka and Stanley had a discussion about their future relationship and the young woman reiterated her desire to leave and told him to move on. The two also agreed that the baby would be left in the care of her grandmother.
Greaves said that around 6:45pm, Stanley left the house. It is suspected that he returned just minutes later and attacked Oneka, who was outside washing the baby's bottle.
Greaves recalled hearing her daughter screaming her name and rushed outside and found her bleeding profusely. "She tell meh, 'Stanley juk Abby. Abby look Stanley kill meh…. So, meh ask, 'What yuh mean?' And told her, 'No, you gone live,'" the woman said.
It was not until a relative flashed the light from a phone on Oneka that the mother noticed the gaping wounds on her daughter's body.
The family rushed Oneka to the hospital and she was instantly taken for surgery. The woman battled for her life throughout the night but apparently succumbed to her injuries at around 3:45am yesterday.
Meanwhile, Stabroek News was told that Stanley, who escaped through a back alley, later reported to the police. By that time he had already ingested a toxic substance.
Members of Oneka's family yesterday indicated that the man had previously indicated that he would not let her leave him. An aunt of the dead woman said she overheard when the two were arguing and Stanley was reported to have told Greaves that if he could not have her, no man would. Her grandmother also recalled speaking with Stanley and she said he told her they would be together until death.
Around the Web