Just a month after completing a two-year prison term for illegal possession of a gun and ammunition, a Bel Air Village pork-knocker was yesterday sentenced to two 56-month sentences for similar crimes.
Ewart George, 23, of 19 Bel Air Village, had appeared a mere seven days ago to answer to the charges that he, on May 13, had a .38 revolver along with three rounds of matching ammunition.
Last week, George had pleaded not guilty to the charges.
It was the police's case that police on patrol stopped a taxi bearing licence plate HC 2240 and informed the occupants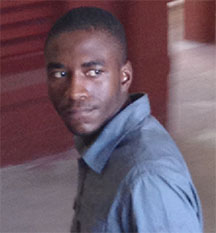 that the vehicle needed to be searched. The search revealed a gun and ammunition hidden underneath the front left passenger seat, where George had been seated at the time.
Once more before Magistrate Judy Latchman, the unrepresented George was yesterday sentenced to prison after Prosecutor Joel Ricknauth was able to establish, beyond a reasonable doubt, that he was guilty of the crimes.
Before declaring the man's guilt, Magistrate Latchman read at length the case's facts. She concluded, "I believe beyond a reasonable doubt that the defendant knew he possessed a firearm and ammunition."
The illegal items had reportedly been found in a bag. Though the bag was pinned as belonging to George, the man vehemently denied ownership since his appearance in court last week. "I didn't know anything about any gun," he said. He continued, "I never went into any taxi with any bag. The bag wasn't my bag."
Two years ago, George had been sentenced to two years imprisonment by Magistrate Latchman for a similar crime. He explained that he had been released from jail only a month ago.
When given an opportunity to speak, the man reiterated his innocence. "I don't even know what I'm doing here," George said. "This is the second time you're sentencing me for something I have no knowledge of; Father knows it."
Magistrate Latchman questioned whether he had appealed his previous conviction. However, George said he had not and had instead served his entire term.
Latchman explained that she had taken "mitigating circumstances" into consideration along with his antecedents and the seriousness and prevalence of the offences. For each of his charges, he was sentenced to 56 months imprisonment. The sentences will, however, run concurrently.
George was also ordered to pay $160,000 in fines.
Following the decision, relatives and friends of the man stormed out of the courtroom. One woman slammed the door behind her before bursting into tears. Officers ordered her out of the compound while others called for her to be charged with disorderly behaviour.
However, the distraught woman promptly exited the compound before any charge could be instituted.
According to Prosecutor Ricknauth, five witnesses had testified in the matter, including the taxi driver and four police officers.
Around the Web