President Donald Ramotar on Sunday commissioned the recently renovated Burnham Park Pavilion in New Amsterdam, Berbice.
"You would have known over the years we have been building and rebuilding infrastructure so necessary and so indispensable for further social and economic development; and while this is important we also see the importance of investing in people," Ramotar said in his address at the ceremony.
The administration recognises the importance of investing in human capital and is interested in enhancing the quality of life. "We want to enhance the capacity of people, we spoke of lifting the quality of life in society, giving people a higher quality of life, and so too it is true that we have to live by other values and creating other conditions; that is why we have been investing so heavily in the social sector," the president said.
According to Ramotar, over 30 per cent of the National Budget goes to the social sector. The administration also recognises the importance of investing in youth, a report from the Government Information Agency (GINA) said.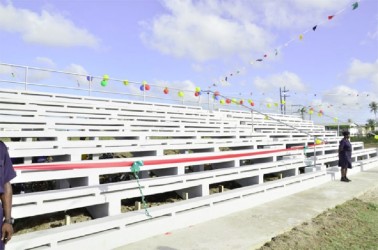 "We believe that sports can make a contribution. We have to increase the capacity to fight crime, and we need to have other methods and we believe sports can contribute in this regard. Sport has rules and if you violate them you can be punished; so too, in life, there are laws that we have to live by," Ramotar said.
The president also noted that there were several spin-off benefits of having youth involved in sport, including healthy lifestyles. "That is why we are building these facilities and we will continue to try to build these facilities," he said.
Meanwhile, in his remarks Presidential Advisor Odinga Lumumba said the initiative shows that the administration has the interest of every Guyanese at heart.
"We have spent about $1B so far for the past 11 years since the launch of the Youth Choice project, and Berbice has had its fair share," he said. Lumumba then called on residents to maintain the facility so that it can serve the community and generate income.
"It can't be in the hands of one person; it was built for youths and you have to ensure they are protected … we have these facilities throughout the country," he said.
Meanwhile, Region Six Chairman, Permaul Armogan welcomed the project and said that it will complement the work of the Ministry of Culture, Youth and Sport and other agencies, as sport plays a great role in any community.
He said about 30 other communities have benefited from similar investments. "In some instances $1M was spent, and in others, more than $1M. These projects are being done because we recognise the importance of taking our youths off the street so that they can make a useful contribution (to society), that is why we are spending all this money in every playground in our country," Armogan said. He then reiterated earlier calls to residents to safeguard the facility.
GINA said the facility boasts a concrete pavilion and a sanitary block. Plans are also in train for lights to be installed to enable sporting activities at night.
Around the Web