By Kenesha Fraser
Fifteen-year-old Ruel Fredericks survived five days alone in a densely forested area with nothing to eat, only muddy swamp water to drink, sheltering under trees during pelting rain and sleeping on the ground.
Fredericks, who was released yesterday from the Suddie Public Hospital where he had been admitted for observation, went missing on May 16 and walked out of the jungle on Wednesday last.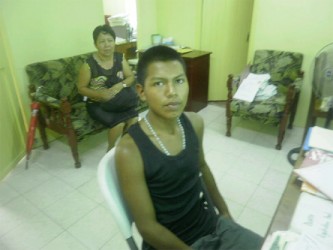 Recounting his experience, Fredericks of Siriki, Upper Pomeroon River told Stabroek News that he is thankful to be alive. The student of Charity Secondary School recalled that he was with his father at their farm on May 16. At around 3 pm, they decided to head home. He said his father told him that he was going to take a short cut, while he headed off to collect the bicycle.
"Before I leave, my father throw a cutlass in front of me and I start feeling different. I start to walk to go for the bicycle and when I reach a lil way I see three roads in front of me," Fredericks said. He became confused and "… I run back to see if I could ketch up my father but I didn't see he."
More confused, he kept walking but the trail he followed only led deeper into the densely forested area. Night fell and he lay down on the ground and slept.
"…The next morning I wake up and then I start walking again, trying to look for a way to get home." Fredericks said he was in a swampy area and he drank the muddy water from the swamp. "I didn't had anything else to eat just water I deh drinking," he explained.
Fredericks said he kept a mental note of the days that went by. Though he used the cutlass his father had tossed him to clear away razor grass and other vegetation, he was still badly scratched by the bushes he walked through.
He was not wearing any shoes, so when the soles of his feet started to blister, he removed his shirt and tore it into strips and bandaged his feet.
When it rained, he said, he sought shelter under trees. He said he could not remember how often that was. He also recalled coming into contact with a "shocking eel" and being shocked on his right hand.
Asked if he was afraid, Fredericks said he wasn't, but after days without food and with no civilization in sight, he began to lose hope. However, as a devout Roman Catholic, he said he prayed and found the courage to walk on.
He added that on the fourth day, he reached the "savannah area" and spent most of that day wading through waist-high water. "That night I had to sleep on a little high spot in the savannah," he recalled.
When he woke up the next morning, he said, he was "just hungry and weak." Fredericks said he drank more water and started his trek again through the forested area. But this time, he said, he heard the sounds of music and motorcycles. "I started following the sound… but then I stop hearing them. But I still keep walking. I heard the sounds after I walk lil far again and then I see something like a shed. I start to wonder if was a house and I keep walking and then I see the house. I gone and call at the house and that is when a lady come out and I explained to she what happen and she give me food and water and I get to bathe."
The lady is a woman known as Aunty Shirley. Ruel had emerged from the forest at Lima Sands. A telephone call was made to alert his family that he was safe.
His mother Shavon Fredericks said, it was on Wednesday last at around 3 pm, that a relative received a call stating that Ruel had been found alive. She said that she immediately asked for the telephone number of the person who called her relative and returned a call.
"When I call, I ask to speak with my son and when I hear his voice I start crying," Shavon said. "That is when Ruel tell me I must not cry because he make it through and that he alive." The woman said contact was immediately made with the persons who were searching in a canal for her son, and some relatives travelled to Lima Sands and took him to the hospital.
Shavon Fredericks said her son had not attended school the day he disappeared and just before midday, he had left home to take lunch for his father on the farm, approximately one mile away from their home and eventually spent the afternoon hours with him.
"When his father reach home he tell me that he expect Ruel to meet home already because he (Ruel) de gone to collect he father bicycle he park near the farm," she said. "My husband say that Ruel tell he that they would race to see who first reach home and that is why my husband think he already reach because he gone for the bicycle."
She added that Ruel knew the trail well, since he occasionally rode to the farm to assist his father. "I didn't believe that he get lost at first because he gone many times there alone."
"I am feeling well now," Fredericks told Stabroek News. "I would like to go with my grandparents in Tapakuma to spend some time."
Captain of Tapakuma Village Doreen Jacobis expressed thanks to all those who helped in the search for the teen. "We thank God for taking care of Ruel and all the persons who were searching diligently for him, we want to thank," she said.
Around the Web