The politics of "no" that has characterized the 10th Parliament is hampering and undermining many important projects that have the potential of accelerating economic growth and enhancing the quality of life of Guyanese, President Donald Ramotar has said.
In his Independence Day speech for delivery at midnight, the President said that there is much to celebrate and the momentum achieved at the end of 2011 could have allowed the country to go even faster in the last two years if there had been greater cooperation amongst the parliamentary political parties in the National Assembly. Guyana is celebrating its 48th Indepen-dence Anniversary today.
Ramotar spoke on the developments that Guyana has seen over the past year and emphasized the effect that parliamentary infighting is having on the country. He pointed out that Guyana could be blacklisted by countries as a result of the country's failure to enact anti-money laundering amendments to the law. The president noted that the Caribbean Financial Action Task Force (CFATF) will review Guyana today.
"How can we speak about fighting corruption and narco-trafficking and refuse to pass the FATF (Financial Action Task Force) and CFATF compliant Anti-Money Laundering and Countering the Financing of Terrorism bill? And in blocking such a bill coming to the House they have exposed Guyana to being blacklisted by the international community with all the consequences that will follow," Ramotar said. "As we meet tonight (last night) the Guyana delegation is on their way to the CFATF meeting which will review Guyana on our independence day and all indications are that Guyana will automatically be forwarded for review by the FATF. This means that Guyana will be listed immediately as a country that threatens the global financial, banking and insurance systems and countries will be instructed to take protective measures against Guyana," he said.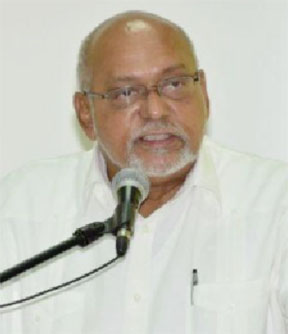 "What will Guyana gain by these irresponsible and reckless tactics in our body politic? This I believe will have an impact on the collective morality of our nation.
These actions threaten the foundations of our freedom and democracy that our fore parents fought so gallantly for," he asserted.
The president had earlier mentioned the Amaila Falls Hydropower Project and the Specialty Hospital as having been affected as a result of the parliamentary gridlock. "How can we talk about developing our tourist market and oppose a Marriott Hotel Project as well as a modern airport and airstrips in the interior? How can we speak of Human Development and cut the money to provide loans to students at the University of Guyana and remove all the monies committed to advancing the transformation of Amerindian Village economies and speeding up their integration into mainstream Guyanese economy?" he added.
Ramotar called for a renewed patriotism and nationalism from the political parties. "Opposing for opposition's sake and introducing blackmail methods in our politics will gain us nothing, indeed even if it gives results in the short term, it will damage the moral fabric of our society in the medium and long term," he declared.
The only criteria should be what is in the interest of our people and country, he said while urging greater cooperation and unity even as he pointed out that a lot has to be done to further enhance the quality of life in Guyana.
"Over the years we have worked tirelessly to restore and consolidate our new born democracy and embed it in our constitution, laws, institutions and administrations. Our governance architecture has not emerged as a result of a top down approach but arose from a participatory process with thousands of citizens in the regions and civil society bodies including the opposition parliamentary political parties. Our governance structures enshrined in the constitution are unique and progressive.
No country in this hemisphere has built in a veto by the leader of the opposition in the appointment of certain constitutional post holders and establishment of service commissions.
This was an important ingredient of the constitutional reform process to provide for greater inclusivity. However, the Constitu-tional Reform Commis-sion never anticipated that these measures would lead to gridlock," Ramotar said.
"We have emerged as a democratic nation respecting and protecting human rights.
These are things that we must guard like our ancestors guarded their dream of freedom and equality. We must not take it for granted; we must always try to strengthen these rights and we should let those who condemn them, those who abuse them know the harm they are inflicting on our country," he added.
Ramotar also noted that Guyana is working closely with the international community, mainly the United Nations, the United States and the United Kingdom   in fighting international crimes which include the fight against drug dealers, money launderers and other global criminals. "Our work with the international community will become even more intensive as we are confronted with many global issues. Global problem must be solved by governments taking common positions," he said.
On the economy, the President said that Guyana has had real consecutive economic growth every year since 2006 representing the longest period of uninterrupted real economic growth since independence in 1966. Last year the economy grew by more than 5%, he noted. He pointed to the performance of the gold mining sector, rice, construction and the services sector.
"Clearly we have laid and are continuing to lay a solid foundation for greater and faster progress in the future. To do so, we need to have improved infrastructure," the president said. "For us, one of the main impediments to our faster economic growth is the lack of cheap energy.
We need this to provide for a strong industrial and processing sector. We need it to add value to much of what we produce today. We need it too, to ensure that our domestic consumers have cheap and reliable power in their homes.
We need it so that we can reduce the importation of fossil fuel and to be able to save the nine billion dollars we use every year to subsidise electricity charges to our people," he said.
According to the president, cheap energy will stimulate rapid economic growth and facilitate job creations in every sector. "That is why it was such a national tragedy that our National Assembly did not unanimously support the Amaila Falls Hydro Project last year. It took us four years of negotiations to have reached that stage in 2013 and all of that has been lost.
But we are determined to get this project, already we have recommenced the search and opportunities to bring hydropower to our country," he said while also adding that other forms of cheap, reliable and renewable (green) energy will be pursued in the future.
Ramotar also noted that the country's strong economic growth has given government the room to expand social services to the people. Universal primary education has been achieved while universal secondary education is close, he said. Mentioning several initiatives, he also noted that very soon the University of Guyana will begin to offer some degree programmes online. "In fact I am advised that the largest number of applicants for this new online programme is from Region 9. The use of technology can equalize equitable access by our young people regardless of where they live. The opportunities are immense for their future," the president said.
Around the Web