The body that was discovered on Saturday night on the access road at Eccles Industrial Site, East Bank Demerara, is believed to be that of 27-year-old Rawle Newton aka "Satan Ambassador."
The body was discovered on the dark, isolated road in Eccles around 22:00 hrs with three gunshot wounds: one to the man's side, another to his arm and another on his head, according to information reaching this newspaper. Up to yesterday the body remained unidentified.
According to a police press release the dead man appeared to be in his thirties. At the time he was found he was wearing blue jeans, black shoes, and a blue denim coat over a white jersey.
According to reports, someone who believed the man to be a relative contacted Lyken Funeral Parlour on Sunday, after a photograph of the dead body appeared on the front page of a daily newspaper. The caller reportedly asked if the body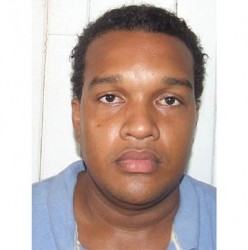 was indeed at the funeral parlour, but made no effort to provide any name.
Sources said five persons then turned up at the funeral parlour yesterday morning looking to identify the body. Three of the five persons alleged to be the man's mother, his sister and his cousin. However, since they showed up without the police, they were not able to view the body. They were told that if they returned with a police escort from the Providence Police Station, they would be able to go through the identification process. They opted to return today.
Meanwhile, there is speculation that the body is that of Newton, who is wanted his police.
In February, the Guyana Police Force issued a bulletin advising that Newton was wanted for questioning in connection with an armed robbery. This was just three weeks after he was acquitted of murder charges in the Bartica Magistrate's Court.
In 2010, Newton was charged with the murders of gold dealers Jainarine Raghubir and Ramdeo Deonarine. Ex-soldier Keron Herbert was also charged in relation to the murders. Several others had appeared before the court charged with aiding and abetting Newton after he would have committed the crime; not only for habouring him but for also receiving some of the cash and jewellery stolen from the slain men.
Deonarine, 50, of Ruby, East Bank Essequibo and Raghubar, 43, of Fairfield, Essequibo Coast were discovered on the kitchen floor of a Second Avenue Bartica house. There were deep wounds to their throats and their bodies were bound.
Around the Web