When 31-year old Fizul Houssein kissed his wife and left home shortly after 03:00 hrs yesterday, neither of them imagined that he would have be dead in a matter of hours.
By 05:50hrs, the 270 Silent Dam, Success resident was pronounced DOA at the Georgetown Public Hospital after a speeding vehicle slammed into him as he was fishing with his uncle in Blygezight, along the Railway Embankment.
The man's relatives were already preparing for Houssein's Wake when Stabroek News visited his residence yesterday morning. His uncle, Kamalelvin Houssein, with whom he went fishing, related the details of the incident.
Kamalelvin said he had asked Fizul, a driver, to accompany him yesterday morning to catch some fish. He said they left very early in the morning, and settled in Blygezight, on the Railway Embankment, some distance from Sheriff Street. The duo had already caught two Tilapia when Kamalelvin went back to the trench and cast his net again.
The man said he was pulling his net up to check his catch when he heard a loud thud behind him. When he turned around, Fizul,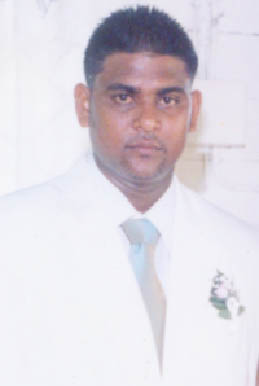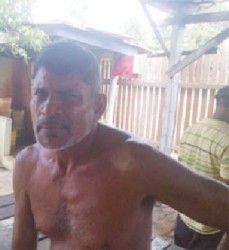 who had been sitting on the bucket with the duo's catch near the road, was nowhere to be seen. The bucket was shattered and Kamalelvin said he observed a "whitish" vehicle speeding away from the scene. The driver never stopped, and up to yesterday afternoon police were still in search of the vehicle in question and its driver. The man said he suspected that his nephew had been struck by the car, but could not locate where he had landed after being hit.
Kamalelvin said he then raced to check the bus the two had travelled in, but his nephew was not there either. Worried, the man said, he tried to stop passing vehicles to persuade their drivers to help him search for his nephew. A vehicle eventually stopped and Kamalelvin said he told the driver that he came fishing with his nephew but could not find him.
The man said it was at this point that he remembered seeing a splash in the trench out of the corner of his eye. The splash, he explained, occurred around the same time he heard the thudding sound behind him.
Kamalelvin said he quickly tore off his shirt and dove into the trench. Five minutes passed before Kamalelvin discovered his nephew's submerged body. He was not breathing. Kamalelvin said the men whom he stopped to render assistance called the hospital for an ambulance, and suggested that he press his nephew's chest to get him to cough up whatever water might have entered his body via his mouth and nostrils.
No water left Houssein's body when his uncle pressed his chest, and the ambulance quickly arrived to take him to the hospital. By this time Houssein's relatives had been alerted to the accident and rushed to the scene. Another relative, Rocky, rode with Houssein in the ambulance. Rocky said the medics tried to revive Houssein. "They pumping he heart but they seh they aint getting no response. And they put oxygen and suh pon he, and when they reach the hospital they carry he in. After five minutes a nurse came out and asked for relatives. She seh he passed away."
Rocky said heavy bruising was evident on the man's torso. The family believes this is where he was hit.
Houssain's common-law wife, 25-year-old Sheann Singh, said she did not know Houssein was going fishing when he left the house yesterday morning. The woman, her face stained with tears, told this newspaper that Houssein asked her on Sunday night to wake him up early on Monday morning because he wanted to go to the wharf early. She said she set an alarm for 02:30 hrs and went to bed.
Singh she said she tried to wake Houssein when the alarm went off, but he did not get up. She said Houssein eventually got up at 02:55 hrs, and lamented that she had allowed him to sleep late. He prepared himself quickly and kissed his wife before he left the house. She said he never mentioned that he was going fishing with his uncle.
"If ah did know," she said, "ah wudda tell he fuh stay home cause is a holiday," the woman said, almost in tears again. Houssein was the father of two young girls.
Around the Web