Hundreds of Guyanese in the Diaspora turned out over the weekend to celebrate Guyana's 48th Anniversary of Independence, according to a release from Bobby Vieira.
He said that many attended church services, parties and even picnics. In New York a special Church Service was held in honour of the country at the St. Gabriel's Episcopal Church on Hawthorne Street in Brooklyn.
According to the press release, apart from the reciting of the National Pledge and the singing of the National Anthem, a message from President Donald Ramotar was shown on television monitors located throughout the church. During the service also, a brief history of Guyana was read to the congregation by Ann Chance.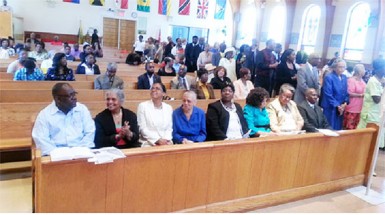 Following the church service, a Guyanese Brunch was served in the Golden Hall of the Church. Several Guyanese also travelled to Atlanta, Georgia for their annual pilgrimage to that State's Peach Carnival.
Around the Web