The United States says that it is laying the groundwork for a Drug Enforcement Administration (DEA) office here as it yesterday committed an additional US$850,000 ($175M) to enhance law enforcement and counter the narcotics trade.
"We are moving forward…part of the process for the DEA working is they like to have a vetting unit … we are on the road to overcoming that and as part of this agreement, as I mentioned, there is funding for vetting units," United States Ambassador Brendt Hardt said yesterday at the signing between Guyana and the US of an amendment to the 'Letter of Agreement (LOA) on Narcotics Control and Law Enforcement'.
"The LOA will support a number of ongoing and new programmatic activities. Specifically it will help support and make fully operational the recently constructed forensics laboratory, it will help establish fully vetted counter- narcotics units and further develop a police partnership programme," Hardt stated.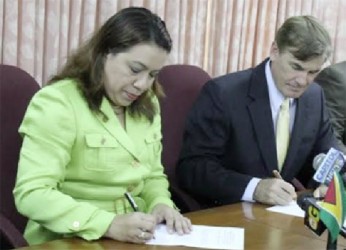 Minister of Foreign Affairs Carolyn Rodrigues-Birkett was Guyana's signatory to the letter at the ceremony held at her ministry's headquarters on South Road.
The American envoy explained that the wait in having a DEA presence here was due to budget cuts in the US which saw a stalling of the opening of new offices overseas.
However, he said that part of yesterday's sum would go towards the establishment of a vetting unit for local officers and this bespeaks his country's commitment to the DEA office here as the vetting unit paves the way for the agency's start-up.
"They like to have a vetting unit that they are confident they can work with and share sensitive information with and really work in elevated partnership so I think that is one of the core building blocks to getting the DEA here," Hardt said.
This would mean that local agents would have to undergo strict processing checks, such as lie detector tests, before they can be part of the team.
Guyana's Foreign Minister asserted that that her government has given full support for the establishment of a DEA office here as it battles the countering of the drug trade. Said Rodrigues "We are ready on our side to do whatever we have to do to get the DEA office here".
Sources say that the vetting unit was an integral part of the establishment of the DEA here as the presence of rogue officers in the security apparatus has compromised high-level investigations.
A US DEA office here has been on the agenda for at least a decade but has faced a series of hurdles.
Around the Web