A teen boy was on Friday placed before a city court to answer a charge that he robbed a man of $400,000 in cash and raw gold.
Otto Henry, 17, of Charlotte Street, denied that he, on May 27, robbed Surejdeo Kanhai of $160,000, an ounce and a half of raw gold valued at $230,000 and a cellular phone valued at $10,000. He also denied that he used personal violence sometime during the robbery.
It is the prosecution's case that Henry with others attacked Kanhai on May 27, at about 7:20pm, at the corner of Albert and Charlotte streets. It is alleged that they assaulted him up and took away a haversack containing the cash, gold and phone.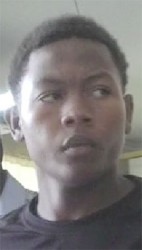 Police Prosecutor Corporal Seon Blackman, who presented the prosecution's case, told the court that the matter was reported to the police and the investigation led to Henry's arrest.
Attorney George Thomas asked the court to grant Henry bail on the grounds that he maintained his innocence of the crime, that he lives with his mother and was willing to lodge his travel documents, and to report to the police.
Subsequently, Magis-trate Faith McGusty in the presence of Henry's mother, granted him $100,000 bail and ordered that he report to Cadet Officer Williams or Constable Roberts, at the Alberttown Police Station. The matter will be called again on June 20th, when statements are expected to be filed.
Around the Web