A police dog handler was yesterday charged with procuring an airport baggage handler to smuggle cocaine aboard an outgoing flight bound for Canada.
Special Constable Jevon David was remanded to prison after he appeared to answer the charge in the Georgetown Magistrates' Courts yesterday.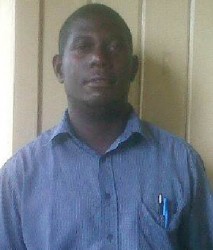 David, 28, of Brighton village, Corentyne, Berbice, denied that he, on May 23, at the CJIA, procured Eyon Persaud to traffic 3.498 kilos of cocaine at the Cheddi Jagan International Airport (CJIA), Timehri. Persaud is one of two baggage handlers who were charged last week with concealing cocaine in the vent of the luggage hold of an outgoing Caribbean Airlines flight.
Customs Anti-Narcotics Unit (CANU) Prosecutor Oswald Massiah said that the prosecution will lead evidence to prove that David, who was attached as a dog handler at the airport for the past three years, is guilty of involvement in the matter.
David, through his attorney Peter Hugh, informed the court that he had been under close arrest for the past 12 days without a charge being instituted against him.
The defendant also levelled allegations of mistreatment at the police while in custody. Hugh told the court that the time his client spent in custody was highly irregular and he cited the 72 hours limit stipulated by the law.
Additionally, the attorney argued that the prosecution has no evidence against his client, save for the allegation by Persaud. He noted that his client denied the allegation levelled against him by Persaud, with whom he had a confrontation.
The lawyer asked for reasonable bail and made an application for statements to be served.
Massiah, in response, told the court that he was informed by one of the investigating ranks that David was not allowed to leave the compound at Timehri, where he was under close arrest, but that the defendant was never mistreated by his colleagues.
Massiah also said no special reasons were submitted in relation to the charge for bail to be considered and his submission was upheld by the Chief Magistrate Priya Sewnarine-Beharry, who ordered David to be placed on remand until June 6th, when the case will be called before Magistrate Leron Daly at the Providence Magistrate's Court.
Persaud, 25, of Hyde Park, Timehri and Alex Seymour, 20, of 58 Garnett Street, Newtown, Kitty, were jointly charged with possession of narcotics for the purpose of trafficking charge last week, following the investigation into the discovery of the cocaine. According to the charge, the men had 2.234 kilograms of cocaine on May 23 at the CJIA. They both pleaded not guilty to the charge.
It was alleged that Persaud and Seymour hid the drug in their socks and crotch, respectively, and subsequently hid the narcotic packets in a vent in the luggage holding compartment of the plane. Acting on information, a CANU officer on duty at the airport went to the aircraft, carried out a search, and discovered the two hidden packets.
Around the Web