Main opposition APNU parliamentarians Dr. Karen Cummings and Dr. George Norton have both sounded concern over the growing number of detected Chikungunya cases in Guyana even as health officials have professed that they have the situation under control.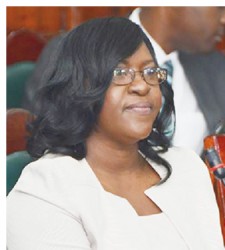 Three weeks ago, the mosquito-borne virus had surfaced in Guyana and two people tested positive—a toddler and a woman said to be in her forties, from Cumberland and Canefield, Canje, Berbice, respectively. Last week, the Caribbean Public Health Agency (CARPHA) had confirmed 12 more cases of Chikungunya from samples taken in East Berbice
At an APNU press     conference yesterday, Cummings said that she is concerned that the problem is raising from endemic to epidemic even as health officials have said that it is under control. "…Chief Medical Officer Shamdeo Persaud did say that it is under control at the ports of entries. Yet, I have seen it here… I want to suspect that we don't quite have it under control," she said.
Similarly Norton said, "I am a little worried when the authorities are saying that 'we have it under control' but they are concentrated on fogging only in the Berbice area. I hope they are not waiting for it to reach Georgetown before they start fogging in Georgetown and in other areas."
He added, "I am still not confident with the overconfident approach."
Leader of the coalition David Granger also echoed similar sentiments. "Guyana has a serious problem with vector borne diseases in general and many of these diseases are spreading because of poor public health practices, poor sanitation," he said.
The opposition leader stated, "We have cases of dengue but not everybody can fly to Florida if there is any suspected dengue fever."
He added that unless government takes drastic measures to improve sanitation and not only in Georgetown, there is going to be a serious situation. "It's already here, there is no point closing the border. To prevent it going out?" he asked.
Earlier this week, it was announced that the health Ministry is heightening its Vector Control Services (VCS) in Region Six, placing emphasis on fogging and spraying, in light of the detected cases.
In addition, Health Minister Dr Bheri Ramsaran was reported as saying that the ministry was working closely with the Neighbourhood Democratic Councils (NDCs) and the Regional Executive Officers (REO) in a collaborative effort to help to curtail the spread of the disease countrywide.
The ministry has already identified the ports of entry for strict monitoring, while health centres have been alerted and have available medication for the effective treatment of any vector borne disease.
The virus, which is spread by the aedes aegypti mosquito, has been raising alarm in the Caribbean since it was first detected in the eastern Caribbean late last year.
It causes severe joint pains, headaches, spiking fevers, muscle pains and vomiting, mimicking symptoms of dengue fever. The symptoms surfaces four to seven days after infection and disintegrates within a week. Health officials has since reported that the virus is not deadly however there is no vaccine or cure for it.
Recently the Pan-American Health Organization reported more than 55,000 suspected and confirmed cases in the Caribbean.
Reports also surfaced that there were cases of several deaths.
The World Health Organization – International Health Regulations (WHO-IHR) has so far confirmed one death in St. Martin.
There have been traces of the virus detected in Anguilla, Aruba, British Virgin Islands, Dominica, French Guiana, Guadeloupe, Martinique, St. Barthelemy, Saint Maarten, Haiti, and St. Martin.
Around the Web