One time murder accused Clive De Nobegra Gates, who changed his name by deed poll to Robert Alan Gates and who is currently serving a 48-month prison sentence, yesterday testified that after being threatened he was planted as an undercover agent in the Working People's Alliance (WPA) and was later promised a large sum of money and free passage out of Guyana if he facilitated the killing of party executive Dr. Rupert Roopnaraine.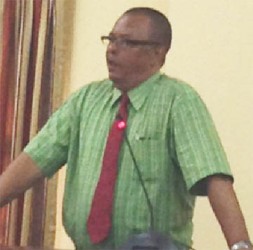 Testifying yesterday to the Walter Rodney Com-mission of Inquiry at the Supreme Court Law Library, Gates said that   he had befriended Roopnaraine in 1979 after he (Roopnaraine) was arrested in connection with the burning down of the Ministry of National Development. He said that he became inspired to leave the force after being told of the WPA and as such could not carry out the task that was later given to him. At the time he met Roopnaraine, he claimed that he was a constable heading an intelligence unit within the Guyana Police Force.
The CoI was set up to probe the death of Rodney, the co-leader of the WPA, who was killed after a walkie-talkie given to him exploded on June 13, 1980. The then ruling PNC has long been accused of his murder but has continued to reject any responsibility for the killing.
Gates, whose activities have raised questions and who sometimes described himself as a private investigator, revealed that he was currently serving a prison sentence for obtaining money by false pretence – a trumped up charge, he said, which has since been appealed. This information shocked many in attendance at the commission as Gates had been seen at the hearings since last week dressed in civilian clothes. Except for one occasion, this newspaper never noticed a prison officer at the commission. Yesterday, Gates was seen sitting in a company of a woman said to be his wife. There was a man sitting in front who this newspaper was later told was a prison officer.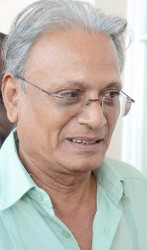 Lead counsel for the Commission Glen Hanoman explained to reporters that Gates' presence was made possible through an order from the commission and when at the hearing Gates is always accompanied by a prison officer. Asked why the prison officer was never in uniform, he said that they didn't want to draw attention to Gates' presence and make it obvious that he is a prisoner. He said that the convict has expressed fear that he might be in danger.
Three units
Earlier, while being led in his evidence in chief by Hanoman, Gates, who was dressed in a green striped shirt, red tie and black pants, recalled being part of a 13-man squad which was divided into three units – a patrol unit, an intelligence unit and a unit whose members executed people. He named some of the persons in the squad. His unit, he said, would gather information on criminal and political activities and this information was passed to "the boss," who then decided what action should be taken.
While not being able to recall the year, he said that after Roopnaraine was arrested he was kept at Eve Leary where he was and not placed behind bars. He pointed out Roopnaraine, co-leader of the WPA and Member of Parliament for the APNU, who was sitting in the audience.
He recalled that they had several conversations during which Roopnaraine revealed that he was in need of a bodyguard. He said that he was offered that position but only if he separated himself from the Guyana Police Force. "I was receptive because after listening to what he had to say I became very sympathetic… I knew what the WPA was going through," he said.
"I was so anxious to be part of WPA that the next day I wrote my resignation," he added. After showing it to his superior, he said, he was sent to the then crime chief Cecil 'Skip' Roberts.
After being threatened with a charge of treason, Gates said that he became fearful and decided to disclose everything. He said that Roberts' then told him, "You are the man that we were looking for. You will go and work as an undercover agent in the WPA."
He recalled that Roberts had three phones in his office, one black, one red and one white. Gates said that the crime chief picked up the red one and said, "Comrade leader, we have gotten the man". He said he did not know now who was on the other end of the phone but that Roberts was listening for about a minute before the call was ended. He was then given a fake letter, which he took to Roopnaraine.
He said his police salary was increased from $365 a month to $500 a month.
Gates told the commission of meetings he would have with a man name `Chico', senior police officers from CID headquarters and the late Laurie Lewis, who headed the joint intelligence unit at Ogle.
He said that part of his responsibilities was writing notes about the daily activities of Roopnaraine and he would meet at agreed locations where that information was handed over. He said that he was also tasked with finding informants and he managed to find two; one of whom was a man named 'Bunny,' the bodyguard of Walter Rodney. He said that 'Bunny,' based on a background check, was a street element looking for a dollar and he quickly accepted his proposition. He would be paid based on the information he provided, Gates said.
He said that besides his police salary, he got money from `Chico' and would get as much as $1,500 from Roopnaraine, depending on how well he was doing at the time.
He testified that on one occasion he was instructed to plant two sound activated devices in the inner part of Roopnaraine's car and at a strategic point in the WPA office located at the time in Tiger Bay. This was successfully done, he said, and according to the feedback he got, good intelligence was being gathered from the devices.
Gates testified also testified about when Roopnaraine sent him to pick up a 5 lb tin of milk powder, which contained ammunition. He said that he gave the rounds to 'Chico,' who later gave them to the person who had given them the devices to plant. "They did some stuff to them and give it back to me. I was told that the ammunition will be overpacked so that when they go to use it would explode", he told the commission. According to him, Roopnaraine wanted him to keep the rounds safely until he needed it. "I give the rounds to him eventually after I thought they were doctored", he said adding that the rounds were important because the WPA was planning some action against the Government of Guyana at the time.
Smith
Meanwhile, Gates said that he knew Gregory Smith, the main suspect in Rodney's death, because they grew up in the same area in the Berbice River and knew his relatives. Gates said that he was from De Veldt but later said that he was born in Sand Hills and grew up there.
He recalled sometime in May or April of 1980, he accompanied Roopnaraine to a residence in South to see Dr. Rodney. There is where he saw Smith, who during the conversation said that he was still with the army. They agreed to meet at a later date. He said that they met at various bars and restaurants around the city.
He said Smith revealed to him that he was doing some "technical stuff for WPA. I told him that it is important for us to share intelligence and meet regularly. I also told him what I was doing in terms of my undercover operation". He said that Smith told him that he was assembling walkie talkies for the WPA at Rodney's request.
According to him, he said that Smith told him that he was reporting to Norman McLean, the then GDF Chief of Staff. When grilled on Thursday, McLean stated that he was unaware of Smith's presence in the army.
He said too that Smith said that he had meetings with a Russian man at the Pegasus about technical matters and from the description he realised that he had also been meeting with the same man. He said that around that time telephones could not be trusted as there were numerous instances where the lines were tapped.
At one point during the testimony, the chairman warned Hanoman not to put words in the witness's mouth.
Gates said that in April 1980, Smith told him during a meeting at Parade Ground that Rodney wanted him to build a walkie-talkie. When he contacted his superiors, they said that they would have it built in Russia. He said that his superiors said they would use the opportunity to deliver an explosive device as opposed to a walkie-talkie.
He recalled that he was given instructions to let Roopnaraine fire a submachine gun which would contain overpacked rounds. "I absconded. I did not carry out the instruction because Dr. Roopnaraine was a good man", he said.
Gates said that he, his wife and their six-month-old child then travelled to Sand Hills on the Berbice River for his own safety and it was there that he later learnt that Rodney had been killed in an explosion.
He later returned home and around 4 am, one of the members of the squad he was in came and said that the senior policeman wanted to see him. He said that in excess of 20 ranks surrounded the house he was in.
At a senior policeman's office, he said that he met Lewis. He said that they wanted him to continue his undercover work regarding Roopnaraine but he declined. When he left the office, he said he was confronted by five men. He said that the men escorted him to a car but he did not want to get in because he smelt danger. He said that the four men got into the vehicle, one on each side of him in the back seat and two in the front seats. He said that he did not know where the fifth man was. He was then blindfolded. Gates, however, was unable to complete his testimony and I due to reappear before the CoI. The next set of hearings will be held from June 23 to July 2.
At the start of the hearing, attorney for the PNCR Basil Williams said that he was made aware that the state brought Roberts who now resides in Florida to Guyana to testify. He questioned why his evidence was not being taken as opposed to Gates.
The commission was later told that Roberts was still in the process of completing his statement.
Around the Web