Foreign Affairs Minister Carolyn Rodrigues-Birkett told the 44th Session of the General Assembly of the Organization of American States (OAS) that discourses on issues that impair the development of the Caribbean cannot exclude considerations pertaining to the environment.
"No discussion about the vulnerabilities of our region would be complete without an allusion to the question of climate change in the Caribbean," Rodrigues-Birkett said at the forum held in Asuncion, Paraguay on Wednesday, June 4.
"In the Caribbean, the two industries which will sustain the most damage from the effects of Climate Change are tourism and agriculture, the very industries which are most critical to the survival of the region. Other vital industries, such as fisheries, will also be greatly affected by global warming. With our basic industries damaged, unemployment will rise, with concomitant increases in threats to the security of the region such as drugs, crime, food security and sustainable development," she said, adding that "no other threat to the growth of or to social inclusion is more potent or more certain than climate change."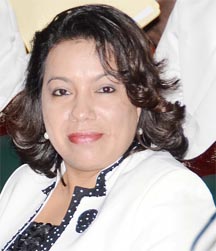 Accordingly, the minister said that the time had come for the issue of climate change "to take its rightful place on the OAS' security and development agenda." In a wide-ranging address that embraced some of the underlying issues of the forum's theme – growth with social inclusion – she noted that "without a doubt "there have been some encouraging developments towards greater equity and social cohesion in the hemisphere with the significant expansion of the middle class and the Region being able to "halve the number of people living in extreme poverty down to 13 %," while "some 70 million people were lifted out of poverty."
Rodrigues-Birkett also said that "notwithstanding these successes, nearly 28 percent of the population of Latin America and the Caribbean are surviving on $2 per day or less, while the income-gap in our region remains one of the highest, compared to other regions." She noted that while the richest ten percent of Latin Americans receive 32 percent of total income, the poorest 40 percent receive 15 percent. "If the region is to close the income gap by 2030, in line with other regions, we need at least 7.5% growth on a per capita basis.  The 2.3% growth forecast for 2014 is a far cry from what is needed," she added.
Around the Web