Executive Director of the Guyana Responsible Parenthood Association (GRPA) Reverend Patricia Sheerattan-Bisnauth says Pastor Ronald McGarrell, a board member of the organisation, will be asked to resign his post in light of his recent anti-Lesbian, Gay, Bisexual, Transgen-der and Intersex (LGBTI) comments.
When Stabroek News contacted McGarrell, who is Vice-Chairman of the Inter-Religious Organisation (IRO), he was reluctant to speak but admitted that he was recently told that the GRPA was asking for his removal from the Board of Directors. He declined to comment further on the matter.
McGarrell, during a recently broadcast radio programme, said homosexuals and other persons with alternative sexual orientation should reside on an island by themselves so as to not endanger the rest of society when/if God visits his wrath upon them.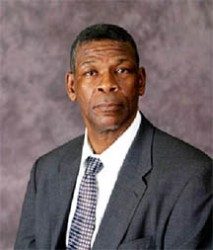 Sheerattan-Bisnauth yesterday explained that GRPA fully supports sexual rights for all and added that it believes each individual has a right to live a safe and free life and needs to be protected by human rights laws and especially the most vulnerable people of our society.
She further stated that members of the LGBTI community also have the right as human beings to be protected.
She added that McGarrell's statement conflicts with the organisation's values and policies. "When persons come on board, they are asked questions about their own values and beliefs and Pastor McGarrell checked out," she noted, before adding that board members of the organisation are supposed to be a part of the advocacy for sexual rights.
Sheerattan-Bisnauth said
In a statement issued on Tuesday, the GRPA said Pastor McGarrell signed up for sexual and reproductive rights "with his eyes wide open" and would need to take responsibility for his statements. The organization also distanced itself from his comments and it said it will take "necessary action."
Sheerattan-Bisnauth said since the statements by McGarrell were broadcast on the radio, she has not been able to speak with him but she was informed that McGarrell has been spoken to by GRPA's President Pamela Nauth.
Sheerattan-Bisnauth said Nauth called her and expressed her disgust at McGarrell's statement and further said that he will be asked to resign from GRPA's board. The organisation will be holding a board meeting today in relation to the matter.
"It is quite a serious matter for us," Sheerattan-Bisnauth said.
In its statement, the GRPA said it strives towards the level of services, education and other forms of support whereby women and men are able to have a satisfying and safe sex life and that they have the capability to reproduce and the freedom to decide if, when and how to do so. It was further stated that GRPA affirms the right and responsibility of every individual to lead sexual lives that express love, justice, mutuality, commitment, consent and pleasure.
The statement also said GRPA is a partner of the Society Against Sexual Orientation Discrimination (SASOD) and supports its work in advocacy, support services and legislative reform to address injustices against LGBTI persons.
She added that as a pastor herself, she does not agree with McGarrell's arguments on the subject. "Even Jesus himself contradicted the Old Testament, which McGarrell used to reference his arguments, it's for a particular people of a particular time. Christianity is dynamic; one has to really read and understand the context and it must be in light of the advancement of humanity. We are all created by God in his image," Sheerattan-Bisnauth said.
Following his remarks, McGarrell told Stabroek News that his "island" comment was a "light-heated joke."
On the broadcast, McGarrell was accompanied by Joel Simpson of SASOD on a discussion on the need to repeal Guyana's buggery and cross-dressing laws.
McGarrell also told Stabroek News that he does not believe the laws should be repealed as, according to him, this will likely open the door for the normalisation of LGBTI lifestyles and gay marriage.
McGarrell also said that pervasiveness of the LGBTI lifestyles threatens God's ideal family and by extension the world's population.
McGarrell felt that "laws should be based in universal principles to raise morals and ethics in society."
However, GRPA in its statement, called for McGarrell and other persons of influence to come to a full realisation of "the death dealing consequences of their destructive ranting" and shift their position to one which is life-giving and a healthy Guyana.
Around the Web