Roxanne Burnham Gardens' residents are concerned about the current state of disrepair of the community's main access road, Willow Lane.
The deterioration is worsening by the day. Several residents complained that the condition of the road is less than desirable as it delays the flow of traffic and becomes an obstacle course to pedestrians.
One resident of the area said the poor condition of the road continues to be exacerbated by the influx of R Bassoo and Sons trucks carrying heavy materials to the housing scheme under construction.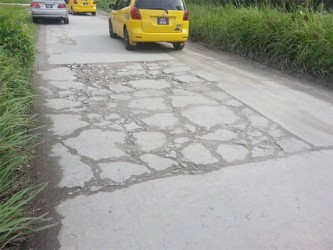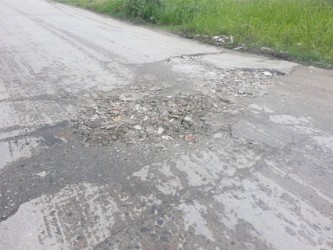 Spokesperson for the company Taslim Khan acknowledged the state of disrepair of the road as well as the fact that the trucks do contribute to it. He did, however, say that the company usually fills the road with building materials, such as sand or loam. According to Khan, not much else can be done for the narrow strip which is made of concrete as opposed to bitumen.
Other residents believed that the condition of the road is mostly due to the multitude of vehicles passing through to access the private school in the area. One woman related that it is near impossible to leave the community in the mornings when school commences as well as in the afternoon when it ends. She explained that the influx of vehicles compounded with the width or the road and its condition causes traffic to become congested for extended periods of time.
Another resident claimed that in addition to these larger problems, there are other reasons the road has deteriorated. She indicated that younger boys would hammer away at the ends of the road and use to debris to fill the potholes as a means of soliciting funds from passersby.
Around the Web