Fifteen persons lost their homes after a fire ravaged a Delph Street, Campbellville house yesterday afternoon.
The fire, which started between 3.30 pm and 3.45 pm, originated in the living room of the top flat of the two-storey Lot 27 Delph Street house.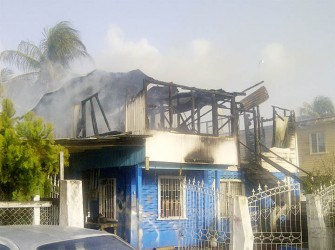 The fire service responded shortly after but was unable to contain the flames that gutted the entire upstairs and severely damaged the lower flats.
An electrical fault is the suspected cause.
The fire was first noticed by neighbour Kamlesh Katri, who said that his wife smelled smoke and asked him if he did too. This prompted them to both look out the window at the front of their house and they noticed smoke coming from the upstairs of the house across the street.
Katri said he ordered his wife to call the fire service while he went over to notify the occupants.
Adesh Rampertab, son of the proprietor Pamela Rampertab, 55, was in the yard plying his trade as an automobile body technician with several workers when he received the news from Katri.
This, he said, prompted him to run upstairs, where he found flames emanating from the living room in the middle of the house, where many electronic appliances were plugged in.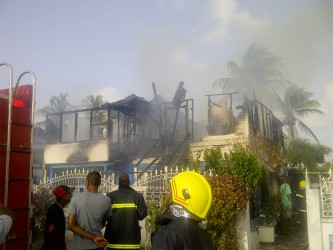 He said he tried to douse the flames with a five-gallon bottle of water from the kitchen but it made the situation worse.
He was followed by his workers, who brought buckets filled with water to throw on the fire, but after realising that the fire was growing they retreated downstairs for safety.
The men were able to remove five vehicles belonging to clients from the yard to the road to preserve their condition. They also said that they were able to remove two gas cylinders used for welding before the top flat was engulfed by flames.
Rampertab said the house could have been saved if the fire service had responded faster. He estimated the response time from the start of the fire to about 20 to 30 minutes but the neighbour who made the call to the service estimated the response time at 10 to 15 minutes. Attempts to contact Fire Chief Marlon Gentle for comment were unsuccessful.
The top flat of the house was empty at the time of the fire as all other occupants were attending a funeral and only learnt of it through phone calls from concerned neighbours and friends.
Adesh Rampertab, his wife and daughter, as well as his brother, Avinash Rampertab and his wife lived in the top flat along with their mother.
The bottom flat, which was divided into two apartments, was occupied by two families; one flat was occupied by a woman who gave her name only as 'Fiona,' her husband and three small children; the other flat was occupied by a woman named Olivia, her husband and their two small children.
Around the Web