Linden Primo, the man accused of firing a gun during the People's National Congress Reform (PNCR) 18th Biennial Congress on Sunday, is now free after being released on self-bail on a threatening behaviour charge.
Primo, 54, of 41 Farm Village, Mahaicony, made his appearance before Chief Magistrate Priya Sewnarine-Beharry and denied that he, on July 27 at the PNCR's Congress Place headquarters at Sophia, used threatening behaviour towards Alieshaw Barker.
Primo was represented by attorney Patrice Henry, who made a request for reasonable bail and told the court that his client had no previous brushes with the law.
According to the police's reports, on the date in question at about 9am,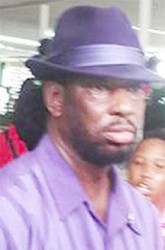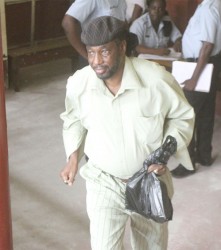 Barker had gone to Congress Place in Sophia for the Biennial Congress. At about 1:15pm, she went to the auditorium door to see a staff member when Primo, who was standing about seven feet away, removed a gun from his pants' waist and pointed it in her direction. He then allegedly discharged a round.
The matter was reported and Primo was subsequently arrested and charged. According to the police, Primo is a security guard employed at a mining company.
Police Prosecutor Michael Grant raised no objections to bail but asked that it be set in a substantial sum.
Grant also pointed out that Primo had been nabbed while he was an outgoing passenger at the Cheddi Jagan International Airport, Timehri on Wednesday and he requested that the man's travel documents be lodged with the police.
In response, Henry said that his client had not been charged at the time and therefore had every right to leave the country as he had not been a wanted man. Henry further said that Primo is an American citizen and his passport has been lodged at the US Embassy.
However, Primo said that he had been living in Mahaicony for about six years.
Magistrate Sewnarine-Beharry subsequently released Primo on his own recognisance and ordered him to appear to Court 10 on Monday August 4.
Following yesterday's proceedings, several persons were heard expressing disbelief that Primo had simply been charged with threatening behaviour.
Before Primo's arrival, one investigating officer was heard telling the man's lawyer that he was bound to be refused bail.
On Tuesday, PNCR executive Winston Felix told Stabroek News that information reaching him suggested that Primo may have discharged his firearm to help a woman who was being stampeded.
He said a mob of people began to push at the auditorium in which voting was taking place.
The woman reportedly fell, unnoticed, during the confusion and was being trampled.
Felix said his information suggests that Primo fired a shot in the air in an effort to scatter the crowd and protect the woman from sustaining injuries.
Around the Web