Dr. Walter Rodney's killing was a clearly orchestrated plan of the military, according to Roman Catholic priest, Father Malcolm Rodrigues, who yesterday said the historian and political activist had been "singled out and targeted" during a time when people were marginalised under the Forbes Burnham administration.
Testifying before members of the Commission of Inquiry (CoI) into Rodney's death, Rodrigues, a supporter of the Working People's Alliance (WPA) and a close family-friend of Rodney, insisted that the police and the Guyana Defence Force (GDF) soldiers were engaging in meetings at Ogle and people feared that something suspicious was about to take place. "There was something going on," he said, while giving evidence from the witness dock at the Supreme Court Law Library.
The CoI was set up to probe the death of Rodney, co-leader of the WPA, who was killed in a car near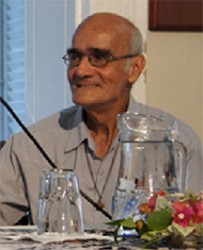 John and Bent streets on June 13, 1980, after a walkie-talkie given to him exploded.
The Burnham-led PNC government has long been accused of his assassination but has continued to reject any association with the killing. Rodney, who had actively opposed the PNC, held mass public meetings that ended in alleged invasion by security units and other groups.
Rodrigues said that Burnham's rule was a time of dictatorship, where people were "marginalised" and certain goods were banned from entering Guyana. He said one time Burnham, speaking at a public meeting in Linden, had stated that "he now has a hand in every home." He said Burnham's face appeared on school books to remind people who was in control and he compared his governance to Adolf Hitler's rule in Germany.
But attorney Basil Williams, who is representing the interest of the PNCR before the CoI, suggested that Burnham's face appearing on school texts could have been an approach to decolonise the population, since Guyana had recently gained independence. But Rodrigues contended that another approach could have been used.
He related that people were fearful and forced to sneak in goods. He recalled one instance where two university staffers had disguised themselves in National Service uniforms and travelled to Berbice to collect flour at the Guyana-Suriname border. He said while they were returning they were stopped by police on the road. One of them, the driver, refused to stop the vehicle and fled. The car ended up swerving off the road and crashed into a trench. They both died.
Oppressed
He said people were fearful and oppressed but Rodney spoke up and started to gain the respect of people across the country. He recalled the famous Arnold Rampersaud trial when Rampersaud was implicated in murder in Berbice and the trial was suddenly moved to the High Court in Georgetown. It was strange, he said, so Rodney visited Berbice and spoke with the people, telling them that it was insult to Berbicians because the judicial system did not think them capable of presiding over a trial. Similarly, the University of Guyana Workers Union and the Ratoon group were fearful that the removal of the case from the Berbice jurisdiction could cause Rampersaud to not be given a fair and free trial.
"What were your basis for habouring such an apprehension or fear that he wouldn't have been given a fair trial?" Williams asked, questioning why Rodrigues would believe that there was no fairness in the judicial system at the time.
But lead counsel for the Commission Glen Hanoman charged that Williams was arguing on a false premise and noted that Rodrigues never stated that he believed the judicial system was not fair.
"It is a common thread for WPA members to say that they wouldn't get justice!" said Williams, insisting that time and time again the commission heard WPA witnesses complain about unfairness in the judicial system.
Rodrigues said Rampersaud went through three trials before he was acquitted.
He added that when Rodney was charged with arson, they started to hand out "Pro-Rodney" pamphlets to people because they felt he was being "singled out" and "targeted." He stated that on several occasions WPA meetings were disturbed by House of Israel members and the police. He said he recognised the House of Israel members by their apparel—a red shirt.
He stated further that during Rodney's trial, supporters picketing outside of the court were thrown into police vehicles and dumped at the back of the Mocha Village on the East Bank of Demerara. He said Rev. Reuben Gilbert was one of the people injured during the attack and he had to carry him to the hospital. "Reuben got beat up badly," he said, adding that WPA members kept watch on Gilbert while he was hospitalised in fear that he would be singled out and attacked again.
He recalled that on the night Rodney was killed, he received a call from a female member of the WPA instructing him to go to the St. Roses Secondary School and pick up Patricia Rodney and her children because Walter Rodney was killed in an explosion at John Street.
He said he was shocked but went to get them. When he arrived, he said Patricia Rodney had already received the news of her husband's death. "She was distraught… the children were too young so they were perplexed," he said.
He stated that when they reached Rodney's home, four US Embassy officials visited the house and offered their sympathy. "People were calling from all over and giving their sympathy… people from Europe, Africa," he recalled.
Later that night, police turned up at the house and demanded to search it; they had no search warrant, he said.
He stated that while they ransacked drawers and bookshelves, he warned Patricia to keep an eye on them in case they planted something in the house. However, he said nothing happened and the men went away.
'News was tailored'
That night he was left with a grieving Patricia Rodney; he said he counselled her as much as he could but they both remained in shock. The next morning, around 6am, a radio station reported that an unidentified man was killed in an explosion between John and Bent streets. He said the broadcaster said the police had released a statement that the man's face was disfigured beyond recognition and a post-mortem examination was expected to be carried out soon.
"The news was tailored properly," he said, adding that he told Patricia that he did not think she was capable of identifying the body so he would, with her permission, do it instead.
He said when he arrived at the hospital, three policemen were there guarding the body. "I prepared myself for a monstrosity," he recalled.
However, when one of the policeman pulled down the zip from the body bag, Rodney's face was "perfect" and normal instead of disfigured. He said he was surprised that the police had released a report that it was an unidentified man when everyone knew who Rodney was. "Even a three year child could identify Rodney," he stated, noting that the discrepancies baffled him.
Even stranger, the next day a Guyana Defence Force soldier was fingered in Rodney's assassination. A neighbour of Gregory Smith's girlfriend had released two pictures of Smith to the weekly Catholic Standard newspaper. One of the pictures, Rodrigues said, showed Smith wearing army clothes and standing among other soldiers in England while the other one portrayed Smith handling electronics.
The following Friday, the pictures were published in the weekly edition and the public had identified the man as Gregory Smith.
During cross-examination, Williams suggested to Rodrigues that the pictures may have been leaked by WPA members. However, Rodrigues denied his assumption.
Meanwhile, lawyers expressed their disapproval with the manner in which witnesses were being called. They asked for more orderliness so as to prevent witnesses returning several times to testify.
Chairman of the Commission Sir Richard Cheltenham indicated that he also wanted a smooth flow in the calling forth of witnesses but he suggested that the discussion be done among the attorneys instead of in the public hearing.
The next hearing is scheduled for Monday.
Around the Web