Local chess champion Taffin Khan has been refused a visa to travel to Norway to participate in the 41st Biennial Chess Olympiad after his name turned up on an international terrorist watch-list when his team travelled to Suriname to apply for visas.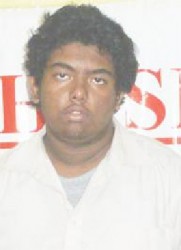 The Guyana team, which consists of Anthony Drayton, Haifeng Su, Maria Thomas, Ronuel Greenidge and Coach/ Manager Wendell Meusa left for Norway last Wednesday for the games which are scheduled to run from August 1st to 14th. Among the competitors in Norway is Norwegian reigning World Champion Magnus Carlsen.
President of the Guyana Chess Federation, Irshad Mohamed told Stabroek News yesterday that the team travelled to Suriname two Tuesdays ago to apply for visas pursuant to the trip to Norway.
While his fellow team members applied for and received their visas, Khan was red-flagged because his name turned up on an international terrorist watch-list. Incidentally, the date of birth of the individual cited on the list coincides with Khan's own birth information. Mohamed said that Khan's team members returned home after receiving their visas but that Khan remained in Suriname pending the results of a review that was requested.
Khan returned to Guyana last Thursday after being informed that the review sought had not changed his situation and that he would still be denied a visa. Khan's fate may be connected with the perceived threat of an attack on the Kingdom of Norway.
According to a July 25th Wall Street Journal report, Norway could maintain a high security level for several weeks following warnings of an imminent terrorist attack at an unspecified location.
Armed police were placed at key transport hubs and border crossings, the report said, after warnings from the country's Police Security Service of a potential attack somewhere in Norway by Syrian fighters.
"We are preparing to enhance our endurance, so that we can handle this for a longer period of time," said National Police Commissioner Odd Reidar Humlegard at an Oslo news conference on July 25, according to the WSJ. "We don't know how long this will last."
The commissioner said the police didn't have any intelligence indicating where, when or how an attack would take place, but he said the response time for emergency helicopters had been reduced to 15 minutes from two hours, and trained bomb dogs had been placed on standby.
Head of the Norwegian Police Intel-ligence Service Benedicte Bjoernland was also quoted in news reports as saying, "We have information indicating that a terrorist action against Norway is planned to be carried out shortly, probably within a few days."  She had that "serious measures are being taken to prevent the attack" although "it is yet unclear against who or what it is planned to be carried out. The exact date of the possible terrorist act was not specified either."
"Bjoernland also noted that citizens of both Norway and Syria could be linked to the alleged attack and that it could be carried out before the end of the month," the site said.
Mohamed said that Khan and his colleagues are disappointed in the development.
He added that the Federation had been putting aside preparations for local tournaments for some time in favour of putting everything together for the Olympiad. This is the first time Guyana will be participating in the games in more than twenty years.
He says Khan's friends, family and colleagues are hoping that the matter is resolved before another such event comes up and he has to travel again.
Around the Web