Kooldeep Looknauth, President of the Guyana Tropical Amazon Bird Society (GTABS) and tour guide, drowned last Thursday in the Rupununi.
This is according to the findings of a post-mortem examination but police are still investigating the man's death.
Looknauth, 42, of lot 77 C Light Street, Alberttown, was found dead near a river in the Rupununi last Thursday. Although the post-mortem examination performed on the body yesterday concluded that Looknauth died by drowning Police Crime Chief Leslie James told this newspaper that investigations into the matter continue.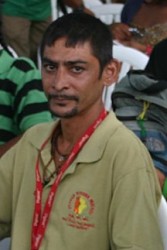 Andy Narine, the brother of Looknauth, told Stabroek News yesterday that his brother contacted him last week Monday (July 28), to give him an update on the work he was doing for the society. Narine added that he received a call on Thursday (July 31) that his brother was reported as a missing person at the Lethem Police Station. He said relatives received another call at 3pm, with the news of Looknauth being discovered dead. On that second call, Narine said, the caller even offered to bury him [Looknauth] in a shallow grave.
Narine stated that the he was informed by friends in the Rupununi district that his brother had stopped at a village to have a few drinks in the company of another man. He said his brother was left at the village and had to make his way back to the ranch. It was while making his way to the ranch that Looknauth met his demise.
"He was found decomposed with a shirt on," said Narine, adding that Looknauth's pants and cellular phone were found on the other side of the river, where the ranch is located. He said that for him the circumstances of his brother's death raise suspicions.
In addition, the devastated brother told this publication that he is disappointed that his brother was "abandoned" and left to make the perilous journey back to the ranch.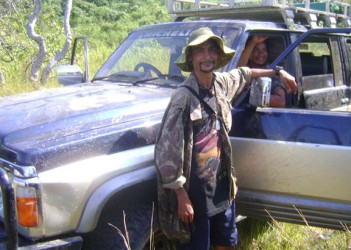 He said he did not only lose his brother but a colleague with over 14 years of experience, who knew the field and the birds they studied very well.
He said that the work of the society will be greatly affected. "Guyana has lost a hero," opined Narine, who also said that the success of the study and data collection that was being undertaken may be in limbo. However Narine resolved to continue the work of the society in honour of Looknauth, come what may.
Looknauth and Narine founded the GTABS in 2000 and have been gathering data on Tropical birds in Guyana. Looknauth, according to Narine, worked with both local and foreign researchers. He said that his brother even held talks with students from the University of Guyana.
Looknauth, who is survived by his parents and siblings, is set to be cremated today.
Around the Web