Mahdia residents yesterday once again took to protesting over poor roads and services, vowing that they will in turn refuse to sell gold to the Guyana Gold Board until action is taken to address the grim state of their village.
In the afternoon, tensions flared when village councillor Naeem Gaffoor was arrested in his home by police and slapped with two charges including illegal protesting.
"Government had been promising to fix these roads since king rock was a pebble and look they ain't even send the pebble, nothing do…it is not a favour we are begging, it is a service they are obligated to give because we pay taxes, we pay gold revenue, we pay this and that. Well now is do for do, they don't fix the road, okay, no taxes, no gold revenue," Sidney Matthews, a resident told Stabroek News from the protest line yesterday.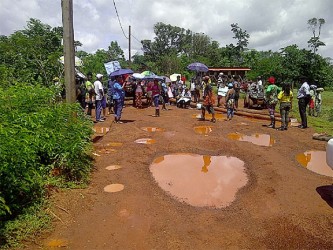 Matthews, like several other residents, staged a protest around mid-morning yesterday, on the very road they say is beyond deplorable.
Mahdia is located in Potaro/Siparuni.
The residents say that they are annoyed and weary that for over three years they have complained, protested, written to the government and ministers and notified the Guyana Geology and Mines Commission and still nothing has been done to fix their roads or address the water situation.
They said too that there has been little or no infrastructural development works in the area and they feel this is deliberate as they are not supporters of the ruling PPP/C government.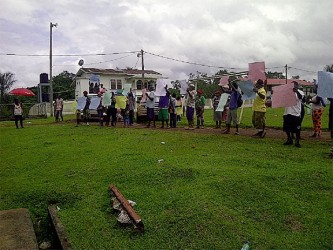 The Alliance For Change (AFC) gained control of the region at the last General Election but its appointed Chairman Mark Crawford has since said that he is being sidelined by the government-appointed Regional Executive Officer, Ronald Harsawack.
It is not the first time the residents are protesting. Back in 2012 they had staged a protest in front of Harsawack's office protesting not only their dissatisfaction with his performance as REO but also the lack of water and facilities in the community and schools.
A no-confidence motion was brought by APNU, in August of 2012, and passed by a majority of the members of the RDC against Harsawack. Eight of the 15 members of the RDC backed the motion, which was based on a series of complaints against the REO. The then Minister of Local Government, Ganga Persaud had said that the RDC had no jurisdiction over appointed officials and nothing ever came of the motion. Instead tensions worsened and the region's councillors charge that Harsawack is hardly in the area.
Residents also hold firm to their former position that Harsawack should be replaced. "We see the REO once in a blue moon and he doesn't use these roads. When you see him is either on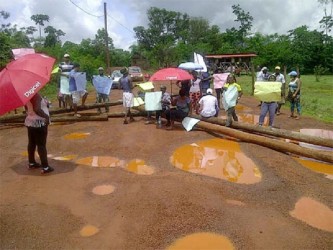 his way to the airport or back in to leave shortly after," one resident said.
A father of seven school-aged children, Denis Bolt, pointed out that the pothole-filled streets pose problems during travel on sunny days and takes a dismal turn on rainy days when most vehicles remain parked for their owners' fear of being stuck.
He pointed out that the entrance to the village hospital is also flooded and patients seeking care would have to manoeuvre through the flood with the water sometimes being too much even for their rain boots.
"Basic necessities you mean we have to protest for too? But this is Guyana. Like the only way you get attention is a protest because most of we here not PPP. But government should know that this don't help their cause because people mind get more hard now," Anita (only name given) said.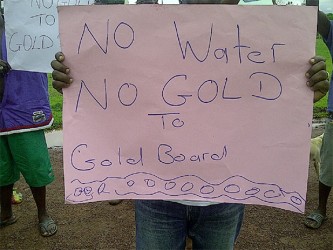 Narine Singh who has lived at Mahdia all his life lamented that for the past 18 years he has bemoaned the water situation opining that it would not take much to remedy it as it was gravity fed. He said that suggestions on increasing the pressure to some areas and getting potable water to others have all been ignored.
Miner Shellon Angus who has lived in the area over several decades says her four children now refuse to visit the village they have fond memories of because of its deplorable state.
"Mahdia was never like this. Now my children when they come in the country they don't come because no water a lot of times. It's always something," she said.
The residents said that they know the protests will hinder their own personal work but it is a small sacrifice to make as they believe that their drastic plan to withhold selling gold to the Gold Board, closing their shops and blocking the roads will catch the attention of someone in authority.
Around the Web