A Canal Number One grass cutter succumbed to his injuries on Saturday at the West Demerara Regional Hospital where he was a patient for one day being treated for head and bodily injuries sustained from a beating by his friend while they were consuming alcohol last Thursday.
Dead is 53-year-old Ayube Khan of Canal Number 1 Polder on the West Bank of Demerara.
The man's wife Chandroutie Khan told Stabroek News yesterday that she found her husband in an unconscious state on Friday morning after she went to his friend's house to check on him since he did not return home on Thursday.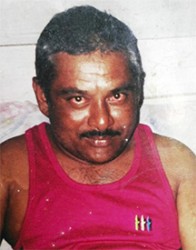 "He leff to go at (name given) and drink and he nah come home Thursday night …my nephew told me Friday morning. The neighbour did call he and tell he that he uncle get beat up with a wood by (name given)," the woman related.
She said her nephew dismissed the call because according to her the man would not beat her husband and it was only after she informed him that Khan did not return home that he reported to her what the neighbour had told him.
The woman said that they rushed to the friend's house on Friday morning and she found her husband in the house unconscious, bloodied and bruised but alive. He was then taken to the WDRH and admitted and was being treated for multiple injuries including a gaping wound to his head. The wound to the head, she believes was the cause of his demise.
She said that when he regained consciousness he told her that his friend had beaten him but he did not know why. She said that it seemed he was delusional as all the while in the hospital he kept asking an imaginary friend why he had injured him. "All the time since he wake he talking like if Deryck there asking `Deryck is why yuh beat meh and I aint do you nothing eh?'" the woman said.
During his spare time Khan enjoyed gardening and drinking alcohol with his friends. He would have celebrated his 54th birthday in November.
He is survived by his wife and a daughter.
Police have stated that the alleged perpetrator is in custody assisting with investigations.
Khan's body is at the Ezekiel Funeral Parlour awaiting an autopsy scheduled to be performed today.
Around the Web