Two bandits robbed an East Coast Demerara (ECD) Auto Dealership yesterday of an undisclosed sum of cash, but were soon after apprehended thanks to the efforts of a security conscious proprietor, collaborating with the police.
Robbed was Surrendra and Sons Auto Dealership and Home Furnishings, of Strathspey, ECD at 12:55pm by two bandits, one of whom was armed. According to the wife of the proprietor, Oma Persaud, she was in the shop with just one worker when a man entered bearing a gun and forced her and the worker to lie on the ground as he enquired of the whereabouts of the boss. Persaud said that she responded in the negative after which the bandit, who wore a white armless shirt, dark short pants, a blue flop hat and sunshades to conceal his identity, telephoned an associate informing him that the coast was clear.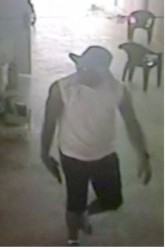 The armed man then forced the two into the toilet stall at the back and relieved them of their possessions including a cell phone, gold chain and some money. The bandit was also able to obtain the key to the office where the cash is held. He handed the key to his associate who arrived momentarily.
The unarmed accomplice strutted in wearing a rag over his face. He emptied the contents of the cash drawers, which the distraught woman could not estimate the value of, but said that it was a few days' sales.
After a brief struggle between the unarmed accomplice and Persaud, the armed man threatened to shoot her which dissuaded her and allowed the two to make good their escape in a white Toyota Premio motor car which was parked outside.
Persaud then called the police to no avail, after which she telephoned her husband, Surrendra, who made contact directly with a police officer. Surrendra, who was on the East Coast driving, acted on instinct and pursued the motor car based on the information related to him by his wife. He remained in touch with his police contact who organized for the suspected culprits to be apprehended along Mandela Avenue, Georgetown.
Surrendra said he was unable to witness the apprehension of the suspects because the police prevented him. He further stated that as of 7:30pm he was still awaiting confirmation from the police as to whether they had found the stolen items in the car and if the men were positively identified according to the surveillance footage provided to them. The Police Public Relations Office, however issued a press release stating that the suspects have been positively identified and are in police custody.
Around the Web