Logging firm Vaitarna Holdings Private Inc (VHPI) yesterday broke its silence on its delayed wood processing facility at Wineperu saying that it "tentatively" expects that the sawmill will be "near completion" by the end of this year even as it ramps up log production.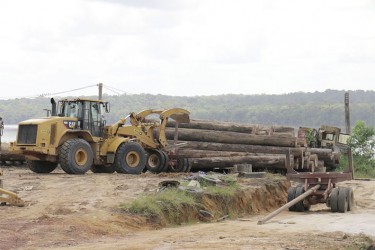 After months of silence on the project, the company in a statement responding to an article published in the Stabroek News yesterday, said that it is expecting to "near completion of the sawmill tentatively by end of 2014." Additionally, the company confirmed further expansion of its logging activities saying that to speed up production, four trucks are expected to arrive in the country on Tuesday. The company did not mention how much logs it has been exporting for the past three years.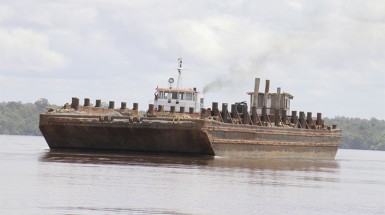 Stabroek News reported yesterday that months after Minister of Natural Resources Robert Persaud had said that Vaitarna was in an "advanced" stage of setting up its promised wood processing facility at Wineperu, Essequibo, Region Seven, the company is still to do so and continues to export large quantities of logs.
In January this year, Persaud told Stabroek News that construction of the facility was expected to commence in the first quarter of 2014 and start-up of processing was scheduled to commence within six to eight months. This has not happened. Since 2010, the Indian logging company has controversially controlled 737,814 hectares of forest – around 1.822 million acres – in Guyana and has been exporting logs to Asia.
Exports of logs rather than processing the timber locally has long been a concern since numerous promises have been made by the government and foreign investors about value-added operations. The promise of value-added has been seen as sugar coating to enable the export of large quantities of logs, particularly to China and India, even though there is little job creation here or value enhancement. Foreign companies including Vaitarna and China's Bai Shan Lin have been exporting logs on a large scale even though Persaud and other officials have said that logging companies are encouraged to process wood here.
Signed a contract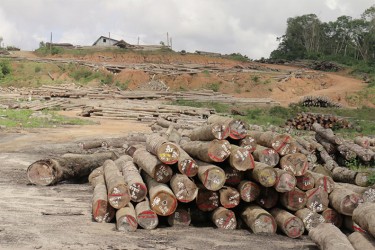 Yesterday, in response to the Stabroek News article, Vaitarna said that on March 12th, 2014, it had signed a contract with a design consultant in Guyana for the construction of a saw mill. The necessary design for the saw mill has been approved by the company's management and they have "floated tender" for the contractors, the statement said adding that the design has been finalized and the structure will be "implemented" through local contractors. The company provided copies of the proposed design of the saw mill.
In January, Persaud had indicated that the company had ordered two Wood Mizer WM 4000 units complete with additional value-added equipment such as equipment for material handling, resawing and edging. The equipment was expected to arrive in Guyana within three months and start-up of processing was scheduled to commence within six to eight months, he had said.
This has not happened and the company yesterday said that the purchase agreement with Wood Mizer for the two units was signed on February 20th 2014 and the initial payment for the machinery has been made. "The machinery will be in Guyana once the structure of the saw mill is nearing completion," the company said. It provided a copy of a section of a purchase agreement.
According to Vaitarna, the superstructure for the saw mill will be built completely with Guyana hardwood. "As per the industry experts, these wood require seasoning/air drying for (a) few months before the construction to avoid any splits/bend in the main columns," the statement said.
It asserted that with all these factors in mind, Vaitarna is expecting to get near to the completion of the saw mill tentatively by the end of 2014. "The company has created and will be creating job opportunities by setting up the saw mill and the priority will be given to local communities while recruiting," the statement said.
New Mack trucks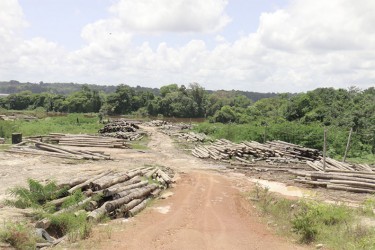 It added that to speed up production, Vaitarna has purchased four brand new Mack trucks which will be arriving in Guyana tentatively on August 19th. Already, local drivers have been recruited for these trucks and will undergo training by Mack engineers before they commence work, the company said.
With the sawmill not expected to be in operation until next year, it would mean that the company has been exporting logs for over four years without doing any processing.
During a visit by Stabroek News to the Wineperu concession on Tuesday, huge piles of logs filled the log yard even as a barge headed up the Essequibo River on Tuesday for loading after ferrying another shipment earlier. Persons from the area said that the log yard often has many more logs than were seen.
A company official said that Vaitarna mostly exports the logs with a few sales locally. Stabroek News was told that last year, around 31, 000 cubic metres of wood was exported by the company and they expect to export a similar figure this year. Unwanted logs were also left to decay.
Persaud had said that the company was in an "advanced" stage of setting up a wood processing facility, but that was clearly not the case on Tuesday. The company has cleared land to set up the facility but no construction has begun.
It was observed that grading and filling was also done but was incomplete. No work was being done and there was no machinery at the site. An official there said that rain had "hampered" the work.
The Vaitarna deal had not been known locally until an article surfaced in the Times of India in 2011. Subsequently, at a press conference in April 2011, Persaud said that there would be no large scale exportation of logs since Vaitarna has committed to getting involved in downstream activities. VHPI is not here as a logging company but will be involved in value-added, the minister had emphasized.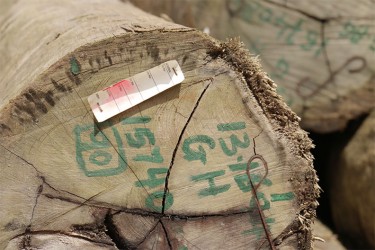 In 2012, V G Siddhartha, owner of the Coffee Day group which owns VHPI said that a processing centre for logs would be set up here but the main facility would be in India.
VHPI is a subsidiary of the India-based Coffee Day Group. Coffee Day, through its Dark Forest subsidiary, in 2010 acquired the State Forest Exploratory Permit for 391,853 hectares of forest originally awarded in 2007 to US-based Simon and Shock International Logging Inc (SSILI), after buying out SSILI. The company has since been granted a Timber Sales Agreement (TSA) for this concession and can now harvest logs.
After the acquisition, the company registered in Guyana as SSILI. Subsequently, Dark Forest acquired the 345,961 hectares concession which was originally assigned to Caribbean Resources Limited (CRL). The government accepted an offer of $600 million for the TSA. The company was registered as VHPI and has been harvesting and exporting logs from this concession. The total area held by Coffee Day is 737,814 hectares of forest, making it the second largest forestry concession holder in Guyana.
Around the Web