Business icon Yesu Persaud launched a scathing attack on the Donald Ramotar administration on Tuesday decrying it for disrespecting fundamental human rights and targeting critics.
He is hoping for a change at the upcoming general elections and while criticising the executive presidency he has issued a call for constitutional reform to be a priority for a new government.
During brief remarks at the Trans-parency Institute of Guyana Inc. (TIGI) annual dinner on Tuesday, Persaud also described the current Donald Ramotar-led administration as a "regime" due to its lack of respect for human rights and said he felt like an enemy of the state again.
Persaud's remarks will be seen as a stinging indictment of the government given his stature in the society and his involvement in the campaign for free and fair elections prior to 1992. His remarks are all the more significant as he was one of the first persons invited by President Donald Ramotar to the Office of the President following the November 28, 2011 general elections. By inviting him immediately to the Office of the President, analysts say Ramotar had been trying to mend the PPP/C's relations with Persaud which were seriously undermined by former President Bharrat Jagdeo's attacks on the business icon.
Persaud's remarks on Tuesday come in the wake of Ramotar's announcement that new polls would be held next year in light of the failure of his suspension of the Parliament to yield dialogue with the parliamentary opposition. The president, in a move to prevent a no-confidence vote against his government, has been heavily criticized for his decision to arbitrarily suspend Parliament. Critics say that while his actions were permissible under the constitution, the provision under which he acted was never intended to be used in such a manner.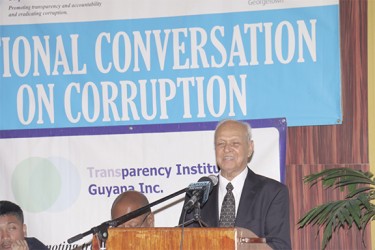 "After this election, I hope the government that comes in, that is one of the first things they would do, is to ensure that if they get into power that they change this constitution to [the] most modern of today," Persaud said on Tuesday.
"Our biggest problem in this country is our constitution. A constitution that is so backward that only certain people could be seen and do things, the others have to hide," he added.
Calling the constitution archaic, Persaud stressed that the provision of total power to the executive president defies fundamental human rights principles and therefore should be changed.
"We have a constitution that gives total power to one man, which is grossly wrong. No one man can run a country or no one man can make all the decisions and decide whether you are here or there, whether you have a job or you don't have a job," he said.
"Let us scrap this messy, horrible, not even 17th century constitution and bring in a new constitution where all the fundamental rights are clearly defined and no one dare challenge it. Because human rights are the key to success," he declared.
Persaud, the former long-serving Chairman of Demerara Distillers Limited (DDL) and Chairman of Demerara Bank, also said that the current administration rules as a "regime" as human rights are scoffed upon. "I was as an enemy of the state during the regime of Mr (Desmond) Hoyte [the late former President, who led the PNC government until 1992] and I am an enemy of the state of this regime. I call it a regime because human values are worthless. And unless you have human rights… you are not going to make any progress in this country," he added.
Persaud lamented that there has been little development in Guyana since the 1980s. He noted that while Guyana and South Korea were on par developmentally during that period, this country lags way behind as one of the poorest in the region, while South Korea continues to bloom.
"Today, where is South Korea? One of the most developed in the world. Where is Guyana? …Guyana is still the poorest country in this region. How far have we come?" he questioned.
He also suggested that persons are targeted by those in power for speaking out. "You are free but you are really in chains… if you talk and talk the wrong language, you are in the bad books of XYZ, the top echelons of society," he said.
Persaud called on politicians present at the event to ensure that when government is changed next year, constitutional reform will be a priority. "I see some top politicians here and my message is addressed to them. I hope there is a change and if there is a change I want to see you all get about the change," he said.
No representatives from either government or the main opposition APNU were present at the dinner.
Around the Web