The Guyana Defence Force (GDF) on Monday donated a 30hp Yamaha outboard engine and a solar power system to the Kaikan community as part of its ongoing efforts to foster good civil-military relations with communities.
According to a statement from the GDF, Chief of Staff Brigadier Mark Phillips accompanied by a corps of senior officers and a medical team visited the Wenamu River (near the Venezuelan border) community to make the donation. The army also handed over a complete computer system for the school's use along with five volleyballs for its volleyball team.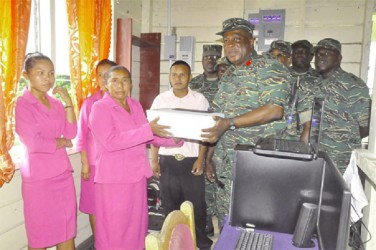 At the simple presentation ceremony, Phillips said that the initiative forms part of a wider commitment by the army to adopt a school and provide continuous assistance to enhance its delivery of education. The Chief of Staff said the GDF is concerned about the education of the nation's youth as it is key to their ability to contribute to nation building.
Meanwhile, the medical team treated about 40 persons suffering from a variety of illnesses.
The GDF has embarked on a similar initiative at Cashew Island, New River where it has been providing assistance to the school. Cashew Island is located near to Base Camp Jaguar near the Suriname border.
Around the Web